Falklands' largest ever squad competing at Commonwealth Games in Glasgow
Tuesday, July 22nd 2014 - 19:54 UTC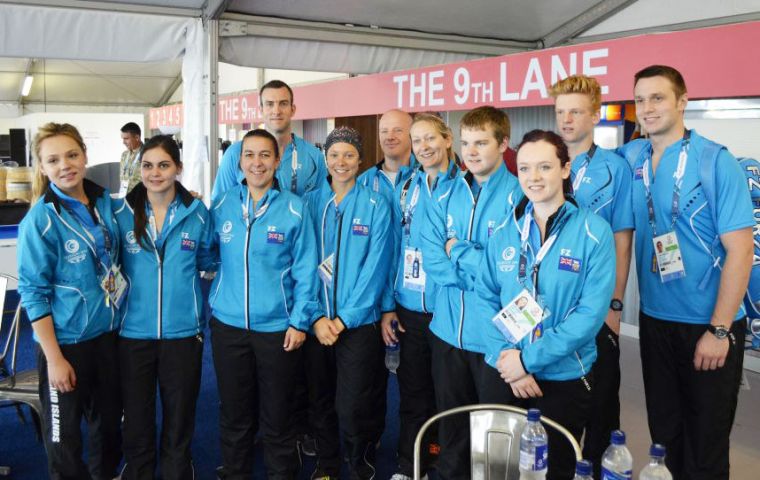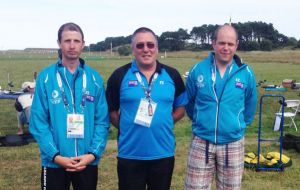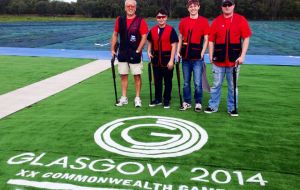 Commonwealth Games take off in Glasgow, Scotland on Wednesday with the Falklands squad the largest the Islands have ever sent to the Games. Falklands will be competing in Badminton, Lawn Bowls and Shooting. The Games are estimated to have a global audience of 1.5 billion during the lavish opening ceremony.
Falklands' Badminton team consists of Captain Doug Clark, Mike Brownlee, Ross Stewart, Dominic Jaffray, Chris Eynon, Laura Minto, Anna Luxton, Louise Williams and Sonia Arkhipkina.
The Badminton team's coach Rebecca Pantaney has enjoyed Commonwealth Games success in the past. She won a Gold medal for England in the women's team event at the 1998 Kuala Lumpur Games.
The Badminton team has a good blend of youth and experience; ranging from Doug who has competed at seven Island Games and three Commonwealth Games to Ross and Louise who will be getting their first taste of Commonwealth Games action. The squad enjoyed a successful pre-Games training camp in Denmark recently.
Gerald Reive, George Paice, Michael Reive, Patrick Morrison and Barry Ford make up the Lawn Bowls team. In the men's pairs event at the Delhi Games, Gerald and George achieved wins against Samoa and Guernsey.
In Glasgow, Gerald will enter the men's pairs with his son Michael. The men's fours event will see Gerald, George, Patrick and Barry compete for the Falklands. Shirley Reive will be the Lawn Bowls team manager, as she was in Delhi.
The Falklands Full Bore Rifle Team will consist of Derek Goodwin and Gareth Goodwin. Derek made his Commonwealth Games debut at Delhi 2010 having previously competed numerous times at the Imperial Meeting UK Championships at Bisley.
Gareth also has a wealth of international competitive experience. He has shot regularly at the Imperial Meeting UK Championships, at two Commonwealth Games and at the Island Games in 2003 where he won a Bronze medal with Christopher McCallum in the Queens Prize Pairs event. Their coach and manager will be Derek Pettersson who has also previously represented the Islands at the Commonwealth Games.
Matthew Vincent will be shooting Skeet. He has competed at the Island Games previously and this will be his first Commonwealth Games. Shooting Trap will be Saul Pitaluga who has represented the Islands many times at the Island Games and Commonwealth Games. Shooting for the Falkland Islands for the first time will be Shaun Jaffray and Axel Rodriguez Reid. They will be competing in the Double Trap event. Chris O'Dean will be the Trap team coach and Joe Joseph will be the Shotgun coach. Steve Dent is the Clay Shooting team manager.
Michael Goss and Jeremy Poncet will be shooting for the Falklands at a Commonwealth Games for the first time. They will both compete in the 50m prone event. Murray Middleton and Nevin Middleton will both be shooting 10m Air Pistol. Both competed in Delhi with Murray previously also shooting at the Youth Commonwealth Games in Pune.
Andrew Brownlee, Vice-Chairman of the Falkland Islands Overseas Games Association (FIOGA), will be the Chef de Mission for the Falkland Islands at the Games.
FIOGA Chairman Mike Summers said "With our largest ever team for the Commonwealth Games by some margin, we very much look forward to strong performances from all our athletes. We are represented, as we were in Delhi, by Badminton, Lawn Bowls and three disciplines of shooting, full bore, pistol and shotgun. The Falklands team has been working hard in training, and has an exciting mix of old hands and new talent across the sports. We expect to represent the Falklands, as all our athletes and sportsmen do, with dignity and friendship, and with a strong competitive spirit."
FIOGA would like to thank their sponsors: Falkland Islands Company/Caribbean Alliance, Sure, Argos Resources, Consolidated Fisheries, the Falkland Islands Government, Lifestyles Ltd, Stanley Services Limited and Noble Energy Inc. - for their continued support. The generous sponsorship of over £10,000 from Noble Energy Falklands Ltd for the squad's kit in Glasgow is also hugely appreciated.