Spain doubles challenge on Gibraltar waters dispute: summons UK ambassador
Tuesday, July 22nd 2014 - 08:51 UTC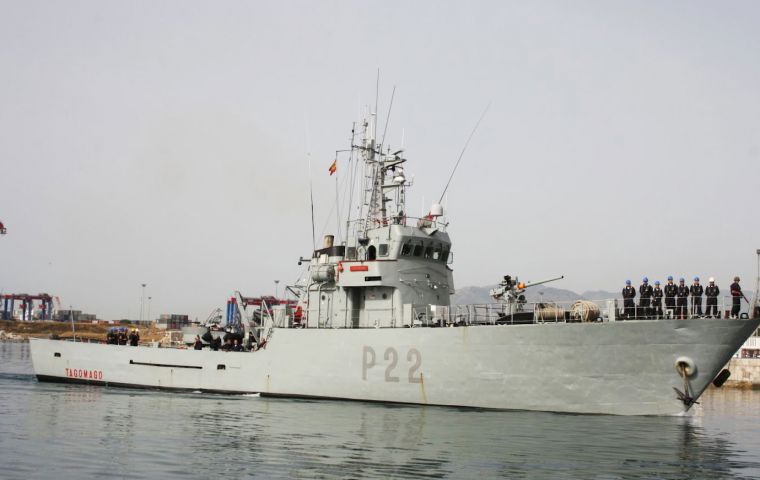 Spain accused Britain of "unacceptable interference" for launching a diplomatic protest over the actions of a Spanish navy vessel off Gibraltar.
On Thursday Britain summoned Spain's ambassador after the patrol boat Tagomago sought to redirect two commercial vessels heading to and from the port of Gibraltar, but on Sunday Spain retaliated by calling in Simon Manley, the British ambassador to Madrid.
Mr Manley tweeted that he reiterated the UK's concerns about Spanish activities at sea and continued border delays during the meeting at the Palacio de Santa Cruz. But in a statement the Spanish Ministry for Foreign Affairs took a robust position against Britain over the diplomatic spat and said it had caused 'deep unease' in Madrid.
"Summoning ambassadors is a very serious step that should only be reserved for the gravest situations," the ministry said, calling such a move 'inappropriate' between allied nations.
It added: "This latest incident represents an unacceptable interference by the United Kingdom in the routine activities of the Spanish Navy in Spanish waters, made all the more serious when none of the ships was British flag."
The Spanish ministry insisted that the Tagomago had been carrying out routine monitoring of merchant ships in "Spanish waters" between three and nine miles off the east side of the Rock. Britain claims three miles of territorial sea and says the waters beyond are international, but Spain countered that everything from the Rock to the 12 -mile limit was Spanish territorial sea.
In the statement, the Ministry for Foreign Affairs was sharply critical of the UK's accusation that Spain had in a provocative manner in breach of international law.
"This ministry considers such accusations unacceptable and states that they are absolutely false," the ministry said.
The Spanish Government said the Tagomago had been operating in "exquisite" compliance of both Spanish and international laws, in particular the UN Convention on the Law of the Sea.
It said that Spain's maritime surveillance plan required navy vessels to make contact with any merchant ships that were not following conventional navigation patterns and "invite them to leave territorial waters".
On July 16 the Tagomago contacted five merchant ships that were anchored between seven and nine miles off the east side of the Rock and asked them to leave.
Madrid claimed the ships were breaching the rules of innocent passage by being anchored in that area. The statement also repeated Spain's position that under the Treaty of Utrecht Gibraltar has no territorial waters other than those inside the port.
"The Government of Spain will remain firm in the defense of Spanish positions in the Gibraltar dispute," the statement said.