Chilean anarchists in arson and bomb attacks in Santiago
Thursday, July 24th 2014 - 05:48 UTC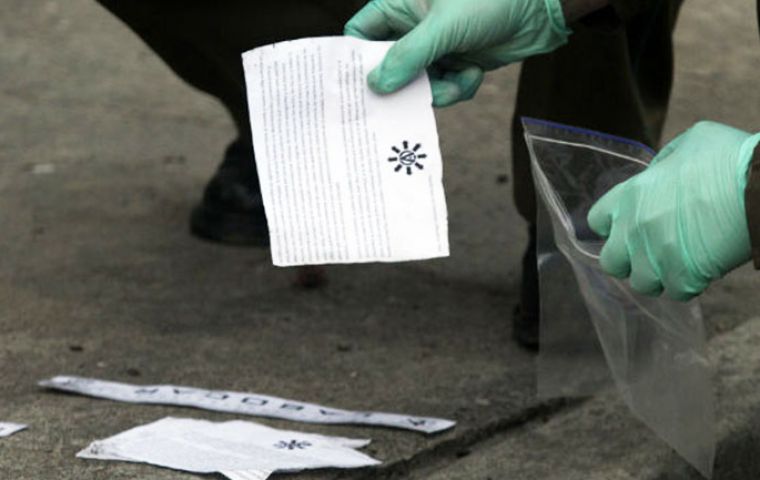 Three cars were burned early Wednesday in Santiago's San Miguel district, where those responsible for the vandalism left pamphlets alluding to the cases of anarchists who have been arrested in Chile and abroad, police said.
The arson attacks were carried out almost simultaneously at two different spots in San Miguel, located in southern Santiago, the Carabineros militarized police force said.
The police found pamphlets at the scene of the attacks expressing support for two anarchists who are under arrest in Spain for allegedly trying to detonate bombs in Catholic churches.
Francisco Solar and Monica Caballero were charged by a Spanish judge on July 4 with placing a bomb in the Pilar Basilica in Zaragoza on Oct. 2, 2013.
The pamphlets found next to the burned vehicles also alluded to the former guerrillas of the leftist Manuel Rodriguez Patriotic Front, or FPMR, who were convicted of murdering a police officer in October 2007.
Two bomb attacks on Tuesday damaged a downtown Santiago church and a child care center and were thought to have been carried out by anarchist groups, while police were deployed Wednesday to the Justice Center in the Chilean capital after receiving an anonymous telephone tip that a bomb had been placed there, a tip that proved to be unfounded.
The Interior Ministry on Wednesday filed a complaint against those responsible for the series of attacks in recent days.
The complaint was filed against "all those who may be found responsible" for violating the law regulating weapons possession.