Mercosur is 'not working' because of protectionism and lack of arbitration
Friday, July 25th 2014 - 06:09 UTC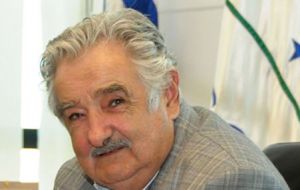 Mercosur is "not working" and is "stalled" admitted Uruguayan president Jose Mujica and blamed the situation on different visions of the block's functioning, according to an interview with Folha de Sao Paulo.
"Sometimes we are faced with some kind of protectionism from some country members and besides the arbitration, decision and institutional mechanisms are not working", underlined Mujica who referred to the latest data on regional inter-trade.
Uruguay exports to Argentina in the first half of the year have dropped 15.6% compared to the same period a year ago. In the case of Brazil, Uruguay's main trade partner, sales slipped 0.5% and with Paraguay, 15.9%. The only positive point has been Venezuela with exports jumping 31.5%, but with payment difficulties.
The worst case is with Argentina where the government of President Cristina Fernandez, three years ago began implementing a strong manufacturing protectionist policy, which included a disguised clamp on imports. The Argentine government applied different instruments such as the non automatic import licenses and later the anticipated sworn statement, with the purpose of delaying import paperwork.
Basically these measures forced Argentine importers to present their requests which then would be considered during a sixty day period, with no certainty of approval. Once the sixty-day period was over with no resolution, the importer had to start the request all over again.
This had a direct negative impact on Uruguayan exports of textiles, auto-parts, plastic, printing and processed food goods. Industry organizations in Uruguay demanded a more firm attitude with Argentina like appealing to Mercosur arbitration tribunals or negotiating more flexibility from the Cristina Fernandez administration.
However none of these initiatives prospered since the Mujica government has always given priority to dialogue, despite the sometimes non encouraging results.
This situation which is extensive to the whole block was described by Argentina consultants "International Business Development", arguing that "Mercosur has shown in recent years certain fatigue in the creation of new businesses and promoting trade".
In effect, 85% of Mercosur trade is with third countries, "which marks the scarce relevance of the inter-zone trade, despite this was one of the main purposes of the founding of the block".
Nevertheless the Argentine consultants admit "a priori that the mere size difference makes the bilateral relation with Uruguay and with Paraguay, clearly favorable for Argentina".