Gibraltar praises call for dialogue with Madrid from Spanish politicians
Saturday, July 26th 2014 - 05:54 UTC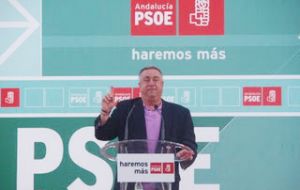 The Gibraltar government welcomed the call by three senior Spanish politicians for Spain, the UK and Gibraltar to engage in dialogue. The call was made public in a joint statement issued by former senior Spanish politicians Pepe Carracao, Rafael Roman and Salvador de la Encina.
A Gibraltar government house (No 6) statement recalled that the trilateral forum for dialogue, which was established with the support of the then PSOE Government in Spain, was "abandoned by the ruling Partido Popular as soon as they came into office. This was followed by continuing attempts to reverse the agreements signed at Cordoba which the previous Spanish Government had entered into".
Chief Minister Fabian Picardo emphasized that it is well known that both the United Kingdom and Gibraltar governments remain fully committed to the trilateral forum. But he added that "given the current impasse, we were happy to support the proposals for ad hoc dialogue as put forward by the then Foreign Secretary William Hague in April 2012."
"In order to further the cause of dialogue, I recently met in Madrid with all the political parties represented in the Spanish Parliament except the Partido Popular, who would not agree to meet me, and UPyD, who pulled out at the last minute. I have also been very pleased to meet with Spanish politicians in the area who are interested in dialogue. This includes the Mayor of La Linea Gemma Araujo and others with whom we have tried to work since we were elected into government," said Chief Minister Fabian Picardo.
"This latest call for dialogue to replace confrontation is therefore a very welcome development which we trust will be seen as a sensible and positive way of having all relevant parties working together to improve the lives of the people who live in Gibraltar and in the Campo de Gibraltar. As I said in my recent article in El Pais, the time has come to talk about what unites us and not to concentrate on what divides us" underlined Picardo.