Cash-short Venezuela considering the sale of its US downstream subsidiary
Monday, July 28th 2014 - 07:30 UTC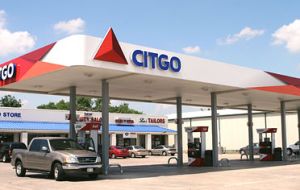 Venezuela's state-run oil company Petroleos de Venezuela SA (PDVSA) is considering offers to sell its U.S. downstream subsidiary Citgo, industry research group Argus Media reported on its website last Friday.
The government has received three separate offers to buy Citgo submitted through Goldman Sachs, JP Morgan and Deutsche Bank, Argus said citing energy ministry officials.
"The offers are in the range of 10bn to 15bn dollars for the Citgo assets, including three U.S. refineries with a combined nameplate crude processing capacity of 757,000 barrel per day (bpd), 48 products storage facilities, three wholly owned Citgo pipelines and stakes in six other U.S. pipelines."
PDV America, Inc., an indirect, wholly owned subsidiary of PDVSA, owns the 427,800 bpd Lake Charles refinery in Louisiana, the 163,000 bpd Corpus Christi refinery in Texas, and the 172,045 bpd Lemont refinery in Illinois.
Citgo has long been a key cash-paying client of PDVSA, whose debt payments to China are made in crude and do not generate regular cash-flow.
However Venezuela's shortage of dollars to fund imports, more specifically food and other essentials, could be forcing the country to decide to sell its assets in the US.