Pollack confirms meeting with Argentina on Tuesday, 24 hours before 'D' day
Tuesday, July 29th 2014 - 06:59 UTC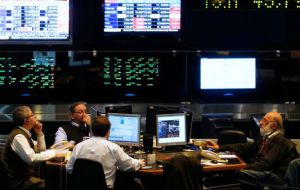 Argentina will sent a negotiation team to New York on Monday for further talks with a US court-appointed mediator Daniel Pollack in its debt dispute with "holdout" investors, Cabinet Chief Jorge Capitanich said earlier, with just two days left to avert a default.
In a statement released later in the day, Pollack confirmed he will be receiving the Argentine delegation at his office on Tuesday at 12 pm (Argentina time) and he "urged direct, face-to-face conversations with the Bondholders, but that will not happen tomorrow."
Argentina has until Wednesday to either pay the New York hedge funds suing for full repayment on their bonds or reach a deal.
Otherwise, barring a suspension of the court-ordered July 30 deadline, Argentina will default for the second time in 12 years.
Pollack has issued two statements Monday morning.
In the latest, he said: "I received a telephone call from the Government of the Republic of Argentina advising me that the delegation of Technical, Financial and Legal representatives of the Republic who were in my office last Thursday and, briefly, on Friday morning, will fly from Buenos Aires tonight (Monday) to meet with me tomorrow at 11:00 am." "I again urged direct, face-to-face conversations with the Bondholders, but that will not happen tomorrow," the statement added.
Capitanich said the government representatives included Finance Secretary Pablo Lopez, Attorney General Angelina Abbona, as well as the Economy Ministry's Legal and Technical Secretary Federico Thea.
Argentine government sources said Economy Minister Axel Kicillof, the country's chief dealmaker who has brokered deals with foreign creditors and investors this year, will not be in the group because he's in Caracas, attending a Mercosur summit with President Cristina Fernandez.
Negotiations have made scant progress in the past three weeks. If the deadlock persists, US District Judge Griesa will prevent Argentina from making a July 30 deadline for a coupon payment on exchanged bonds.
Argentina argues it cannot cut a deal now that risks breaking a clause barring the country from offering better terms to investors than those in the bond swaps that were accepted by 92.4% of its creditors in 2005 and 2010.
A group of those "exchange bondholders" has offered to waive the so-called RUFO clause, the Financial Times reported on Monday, citing unnamed sources.
The FT reported that holders of more than 4 billion dollars of Argentina's discount and par Eurobonds sent a letter to Pollack offering to speed the settlement talks.
Argentina's isolation from global capital markets means an eventual default would be highly unlikely to send shockwaves through emerging markets worldwide. But it will hurt a domestic economy already in recession and battling soaring inflation.
The speculative funds bought Argentine junk bonds on the cheap after its 100 billion default in 2002 and then rejected the terms of restructuring.
The veteran judge barred Argentina from servicing payments on its exchanged bonds until it settled with the holdouts. Griesa blocked a late June interest payment which now sits in limbo with the trustee agent BNY Mellon. His order prevents the bank from transferring the funds on.