Some Euro-bond holders willing to waive the RUFO clause, says Bloomberg News
Tuesday, July 29th 2014 - 05:43 UTC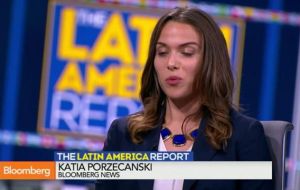 A group of creditors holding about 28% of Argentina's Euro-denominated debt said it would be willing to waive a clause that's hampering a deal between Argentina and holders of its defaulted bonds from 2001, according to a report by Katia Porzecansky published by Bloomberg News.
Allegedly the group which holds 5.2bn Euros in Argentine bonds issued when debt restructurings in 2005 and 2010, notified Argentina's attorneys and court-appointed mediator Daniel Pollack in a letter dated July 26 to which the Bloomberg News had access.
Argentina called on New York Judge Thomas Griesa to create a safeguard against the risks related to a Rights Upon Future Offers clause in the restructured bonds, which until Dec. 31 prohibits Argentina from voluntarily offering a better deal to the holdouts without also extending it to the exchange bondholders.
Violating the clause may trigger claims of more than 120 billion dollars as the whole debt restructuring engineering would collapse argue Argentina.
"Based on our informal efforts so far, we have identified a substantial number of bondholders who would be willing to waive the RUFO clause," Christopher Clark, the group's attorney, said in the letter.
"In order for that to happen, however, Argentina must not be in default and must be given a reasonable period to conduct a consent solicitation complying with the securities laws of the U.S., U.K., Japan, and Argentina."
Changing the terms of the restructured notes to eliminate the RUFO clause would require approval of holders of 75% of each series of bonds, according to the securities' prospectuses. Modifying multiple contracts would require approval by owners of at least 85% of all affected bonds and holders of at least two-thirds of each individual series.