Leading universities from Argentina, Brazil and Mexico sign cooperation agreement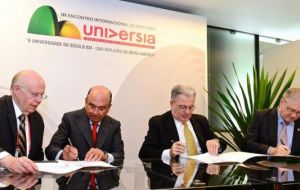 The presidents of the University of Buenos Aires, (UBA), the National Autonomous University of Mexico, (UNAM), and the University of Sao Paulo, (USP), on Tuesday signed a cooperation agreement governing the recognition of titles, student exchanges and cooperation in finding financing sources.
Alberto Edgardo Barbieri, from UBA, the UNAM's Jose Narro and Marco Antonio Zago, of the USP, signed the agreement during the 3rd International Meeting of Universia Deans, which wrapped up Tuesday in Rio de Janeiro and was participated in by 1,103 heads of academic institutions in 33 countries.
The letter of intent sets forth the "immediate" formation of an executive commission that will act to define the joint strategies and activities among these three universities, which are the most important educational institutions in Argentina, Brazil and Mexico.
The tripartite agreement is aimed at fostering academic and cultural integration in Latin America and the document states that moving apace down the "Latin American knowledge highway" is something that "cannot be put off."
The three universities committed themselves to strengthening the exchange of students and professors in areas of common interest.
In addition, they agreed to provide mutual recognition of one another's curricula, both in the regular four-year study programs and in post-graduate work, a move that ensures the recognition of degrees and facilitates mobility for students and staff.
In this regard, the three educational institutions will promote the unification of criteria to allow the reciprocal validation of coursework, respecting the specifics of each university.
The three educational centers will also strengthen their links with production sectors and will share resources and experiences in the areas of innovation and information technology.
Meanwhile, Banco Santander president Emilio Botin announced at the conference's closing ceremony that the Spanish bank will invest 700 million Euros in its program to support Ibero-American universities between 2015 and 2018.
Forty percent of that total will go to fund scholarships and facilitate national and international mobility for students, thus creating 40,000 new places for students and professors.
Thirty percent will be allocated to foster research and innovation and the remaining 30 percent will support academic projects and initiatives to incorporate new technologies.