Falklands Chamber of Commerce re-elects Spink; forecast of busy 2015 propped by oil and squid
Thursday, July 31st 2014 - 22:19 UTC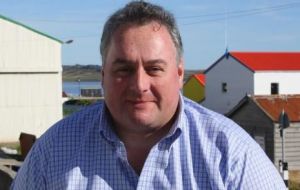 Falkland Islands economy will keep growing and businesses will be busy next year spurred by the oil industry and better Illex catches, anticipated Falkland Islands Chamber of Commerce, FICOC, Roger Spink who was re-elected as head of the Board of Directors.
Spink revealed that lesser work from the oil industry this year had a temporary slowdown effect on the Islands economy but Falklands' government Capital program for 2014/15, plus the construction industry meant "a continued growth in activity."
FICOC held its Annual General Meeting last week where it was agreed that the FICOC Council will now be called the FICOC Board of Directors. It was also agreed that the titles of President and Vice President will be changed to Chairman and Vice Chairman. The changes were made as they were felt to be more appropriate to the way the Board of the FICOC works.
At the AGM Roger Spink, Hamish Wylie and Cheryl Roberts stood unopposed for the positions of Chairman, Vice Chairman and Treasurer respectively and so all were duly re-elected.
Four nominations – Steve Dent, John Ferguson, Rodney Lee and Jimmy Moffatt - were received for the election for three vacant Board Member positions. It was announced at the AGM that Steve Dent, John Ferguson and Rodney Lee had been elected to the Board in a very close result. The Chamber of Commerce would like to thank outgoing Board Member Jimmy Moffatt for his contributions to the Chamber.
During his address to Chamber members, Chairman Roger Spink said, "the growth of the economy due to oil exploration in early 2015 and better Ilex catches should keep all businesses busy in the coming year. The gap in oil exploration work had brought a temporary slowing in the growth of our economy but the Government Capital program for 2014/15 and the 36 houses built for FIG in the last year, in addition the completion of the Sapper Hill plots for private developers has meant we should see a continued growth in activity."
Mr Spink noted that it had been a positive year for the FICOC with highlights including a business delegation travelling to Punta Arenas and Montevideo in October 2013 which had led to a reciprocal visit to the Islands in May by businessmen from Punta Arenas who hope to develop commercial ties. Another positive move for the private sector this year, according to Mr Spink, was the successful outsourcing of the IT and Post Office functions by FIG.
Mr Spink stated that "the Chamber of tomorrow will be required to be vigilant and proactive in protecting the private sector from any future threats, and in ensuring that a favourable climate exists in which our members and the private sector as a whole can flourish." (PN)