Mercosur finally agrees on joint trade proposal to exchange with the EU
Friday, August 1st 2014 - 09:10 UTC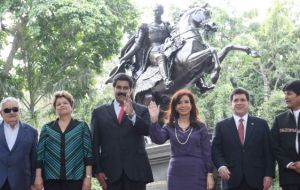 Mercosur members finally agreed this week on a draft joint proposal to be presented to the European Union with the purpose of negotiating a long delayed trade and cooperation agreement with EU, according to Uruguayan diplomatic sources.
"After several hours discussions, well into midnight the four members, Argentina, Brazil, Paraguay and Uruguay have concluded the tariffs' reduction proposal to be exchanged with the EU in the near future", said the sources indicating that Mercosur now must wait for the EU 'move'.
"Most certainly the discussions will become more intense once Brazil takes the chair of Mercosur, since in Brazil industry, agriculture and the governments are fully committed to a trade agreement with the EU".
The chair for the next six months is held by Argentina, which has been reluctant or dragged its feet in elaborating the proposal since the government of President Cristina Fernandez is involved in a policy promoting 'manufacturing' and looking after Argentine jobs.
EU sources in Montevideo said they were aware that Mercosur had, after long laborious efforts in Caracas, far from the spotlights, reached an agreement on a proposal, "but so far had not been officially informed"
"Once Brussels receives the Mercosur proposal, EU already has its own list elaborated by different institutions, and a vote will be taken among member states" said the source. However since it can be a long process and in August everybody goes on vacation, "it might take longer".
Likewise the fact that both sides have finally concluded the proposals to be exchanged does not mean a deal has been reached. "it's a crucial point of negotiations, but not the last; the next step is for both sides to agree on a date for the exchange of proposals".
Originally the exchange of proposals was to take place last December, but a postponement was agreed so that all countries involved could have the chance to present their own initiatives for liberalizing trade in goods and services. Hopefully the most ambitious possible.
Mercosur had fixed itself a target of liberalizing a 90% range of goods and services, but it found obstacles and delays from Argentina which offered a limited list in the chapter of goods, and refused to work on the services and government procurement chapters.
But fortunately during the first half of the year, Argentina became more flexible in the different technical teams working in Mercosur and it was possible to reach an only position and only proposal, during this week's Caracas summit.
Although Venezuela is a full member of Mercosur, and Bolivia is in the process of incorporation, none of the two have been part of the deal, at this stage, since talks between the four founding members and the EU, have been going on and off since 1999, and finally launched with greater emphasis in 2010. Venezuela only joined in 2012 and still has to complete with Mercosur rules, regulations, and resolutions.