Saying Argentina has defaulted is "an atomic nonsense" underlines Kicillof
Friday, August 1st 2014 - 02:43 UTC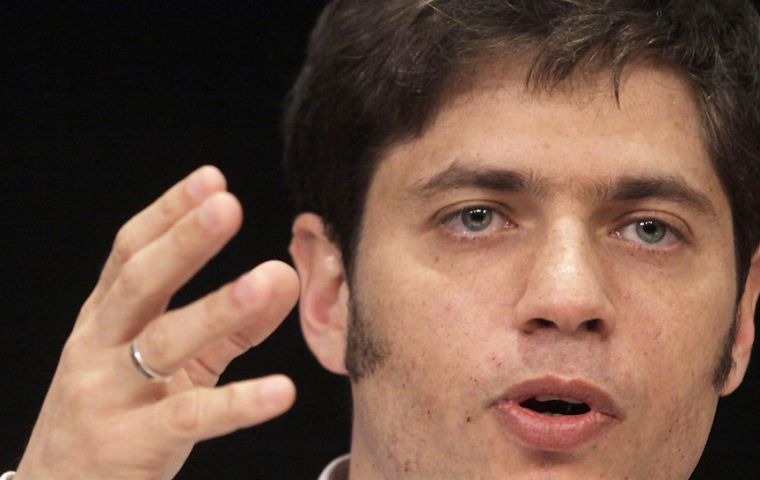 Argentina's Economy Minister Axel Kicillof denied point blank that Argentina defaulted on its debt and described such statement as "an atomic nonsense". The minister gave a press conference in Buenos Aires a day after the failed negotiations with holdouts in New York and claimed "those who today cheer the apocalypse, applauded the 2001 (crisis)."
At the press conference Thursday afternoon at the Economy Ministry, Kicillof repeated the arguments of Wednesday and warned US judge Thomas Griesa, who has the Argentina debt case "is endangering the 92% of exchange bondholders to favor vulture funds (holdouts)."
"There is no default. There are collection problems due to a judiciary sentence. The money held by judge Griesa is not ours, it belongs to bondholders," argued Kicillof, adding the New York judge's way of handling negotiations are "Guinness record material" thanks to his "incongruence."
The Economy Minister explained default, as defined in the 2005 rescheduled bonds contract, can be reached in four ways: not paying, non-compliance of other obligations (cross-default), moratorium, and validity (in the case the Argentine Government objects the validity of the bonds).
"Argentina paid. The payment is done. Argentina deposited the money, it is a third person, a Judge who is impeding bondholders collecting their coupon, and even ruling over bonds contracted in different currencies and different legal systems" Kicillof said, again denying the default.
Kicillof also warned there is a "campaign to seed uncertainty, panic and terror" in reference to media articles that insinuated on Wednesday the conference he held crushed the deal between private banks and holdouts.
"There have been a lot of badly informed, malicious opinions circulating. The government's attitude towards them is to continue working, as we have a lot to do," he said.
"Argentina has deposited 539 million dollars to pay the bonds, so we consider our part done. The current situation would not have emerged if the Bank of New York had not consulted Judge Griesa. The monies belong to the swap bond holders. People can rest sure on that, and Argentina will continue to deposit the funds, as established in the contracts", insisted Kicillof. "Only Judge Griesa is responsible for what is happening, that they can't collect their legitimate funds".
Kicillof also explained that to declare a default, according to the 2005 bonds contract, 25% of holders of any of the 16 different bond issues must request the bank responsible for payment, in this case BoNY, to declare a default. The bank then has 60 days to decide such an option, and if it does the issue ends in the courts and Argentina can appeal.
Kicillof told reporters the Argentine government does not oppose an "agreement between private parts" although he highlighted there are "some conditions" for a pact like that to come through.
"If banks want to pay with their own money, the government won't resist it. What the government cannot do is to pay holdouts or anyone who buys their bonds more than it paid exchange bondholders, because of the RUFO clause that forbids that exact operation. Also, the government cannot take part in a negotiation between private banks and vultures because of the same reason," he said.
On Wednesday Ambito.com revealed an agreement between private banks and holdouts was close to being reached, but banks were yet to define how the bond repayment will be effected after the SEDESA option fell. Kicillof said that in spite of that, it still is "convenient" for private banks to buy the bonds as they would lose less than with a supposed collapse of public bonds in a default scenario.
"As this situation affects private banks though, because the bonds they hold would lose price, they have an incentive to reach an agreement," he pointed out.
Kicillof however did not reveal any more comments about the supposed agreement between foreign private banks and holdouts, and said he was expecting more information on Friday's hearing with judge Griesa as he did not know "who has been summoned to the meeting".
The minister also revealed that at least two of the financial institutions allegedly involved in a private-to-private deal attempt, were partly owned by the Argentine government and even had government members in their boards.
This situation discards their intervention in any deal "because they are covered by the RUFO (Right Upon Final Offer)" and ironically commented that some of the bankers involved "like to be generous with the people's monies".
This time Kicillof not only continued to discredit Judge Griesa and his rulings, but also attacked 'Special Master' Daniel Pollack whom he described as an ally of the 'vulture funds' arguing he finally "took off his face-mask".