Brazil's ruling party expels representative for alleged ties with organized crime
Saturday, August 2nd 2014 - 08:29 UTC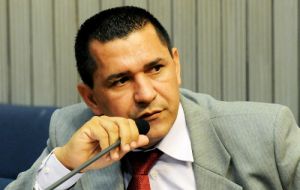 Brazil's ruling Workers Party in Sao Pablo decided to expel representative Luiz Moura following his alleged ties to organized crime exposed by a police investigation. Criminal gangs in Brazil are powerful and are known to have connections with the political system.
According to the president of the PT in Sao Paulo Emidio de Souza "Moura's behavior has been very damaging for the party" and there's no need to wait for suspicions to be confirmed about his links with the largest organized crime group in the country, the First Command of the Capital (PCC) to expel him.
Moura is being investigated on suspicion of money laundering along with members the PCC, using bus companies and cooperatives located in Sao Paulo.
Allegations arose following a police investigation that found that in March Moura had participated in a meeting with members of the criminal group which operates from the prisons of San Pablo.
Moura was elected representative for the PT in the last elections in 2010 with 104,705 votes and is running for reelection in the upcoming October elections. His expulsion was approved unanimously by the 16 members of the PT Executive in San Pablo, who considered that Moura did not offer satisfactory explanations to the allegations.