Rousseff defends industrial policy and economy performance before the sector's lobby
Saturday, August 2nd 2014 - 08:18 UTC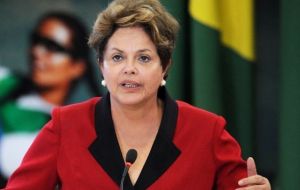 Brazilian President Dilma Rousseff, who hopes to be re-elected for a second term in October's elections, has defended her government's industrial policy in front of the sector's business leaders, the National Confederation of Industry (CNI).
In recent months, the CNI has warned of deterioration in the economy and reduced its growth forecast for 2014 to one percent. It also predicted a contraction of 0.5% for the sector this year.
In response, Rousseff stressed that the performance of the Brazilian economy contradicts the general pessimism and attributed current economic problems to the international crisis, but claimed that this has had a minimal impact on Brazil.
Despite the low growth rates in recent years — 2.7% in 2011, one percent in 2012 and 2.3% last year — Rousseff said that the economy has not stopped expanding while her government has managed to get the unemployment rate "very low" at around five percent.
Rousseff emphasized Brazil's accumulated reserves and said the government has stimulated industrial activity through a series of state loans.
She also blamed the "wave of pessimism" on "campaigns" being waged against her government without identifying who was behind them, and asked industrial leaders to not take any notice, claiming the country is heading into a "new period" of "productive competitiveness."
In response to the industrial sector's demands for tax reform, Rousseff said that this would be "a priority" in an eventual second term, but admitted that it must pass through Congress first.
Rousseff also stressed the importance of building bilateral relations with the US and Europe, but also emphasized the importance of the Brazil's relationship with Latin American countries and emerging countries "without prejudice."