Argentine football has new president; HQ raided on court's order
Thursday, August 7th 2014 - 06:53 UTC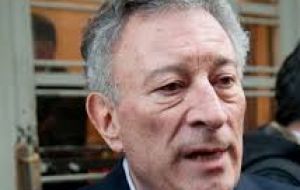 Argentinos Juniors and interim Argentine Football Association president Luis Segura has been ratified in the AFA post until October 2015, as confirmed following the first meeting of the body's executive committee since the passing of late chief Julio Humberto Grondona.
The organization's spokesman Ernesto Cherquis Biallo informed on Wednesday that Segura was chosen "unanimously" to complete Grondona's mandate, which comes to an end next year. "[The decision] was passed without objections, questioning or doubts," the official emphasized.
"The AFA has a president that will continue in charge until the date that Grondona would have stayed, October 2015," Cherquis told reporters in an improvised press conference.
In related news the headquarters of the Argentine Football Association (AFA) was subjected on Tuesday to a judicial search, as part of an investigation into how television money given to the governing body as part of the 'Football for Everybody' program is shared out.
The building, located in the heart of Buenos Aires City, was targeted due to a criminal complaint made by City legislator Graciela Ocaña. The politician aims to uncover exactly in what manner the funds received by the AFA from the government in return for live broadcasting rights are distributed amongst its member clubs.
The AFA was raided to look for information about the management of public funds from Football for Everybody," Ocaña explained during an interview with La Red following the search.
"We want to know how much income the AFA receives from Football for Everybody and if then it was passed along to the clubs".
Amongst those implicated in the complaint are Cabinet Chief Jorge Capitanich and the late president of the entity, Julio Grondona, who passed away last Wednesday.