Uruguay inflation hard to break: in July it remained stubbornly above 9%
Thursday, August 7th 2014 - 08:02 UTC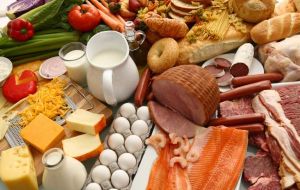 Inflation in Uruguay remains hard to break having reached 6.17% in the first seven months of the year, the highest since 2007 (6.38%) and over 9% in the last twelve months well ahead of the government's target of 3% to 7%, according to the latest figures from the stats office, INE.
The inflation index in July was up 0.75% over June, the highest since February (1.66%) with Food and beverage having the most impact, 1.43%. So far in the first seven months of the year, this item has climbed 11.8%.
The second item in importance was healthcare which increased 3.5% and totals, 6.93% in seven months. Housing on the other hand dropped 1.07%, mainly because the sub item electricity was down 4.77%. This is attributable to the government owned power company, UTE, which alleging abundant rainfall decided on a considerable rate cut, both for homes and industry.
Uruguay must keep its annual inflation below two digits otherwise all labor contracts fall and are liable to a new round of negotiations. So with some manipulation of the index items and good relations with the powerful organized labor unions, the ruling coalition has so far managed to avoid the situation.
For this the Uruguayan government has a virtual monopoly over public utility rates and administered prices (power, fuel, communications, drinking water, health care, public transport and some rents), plus a manageable level of reserves to keep the US dollar in the local money market somewhere between 23 and 23.50 Pesos.
A happy combination in time and percentages, and some price agreements with the main supermarkets, help to reach the desired target below two digits.
Besides since this is an election year (October) it is hard to see the government involved in any effort to contain the admitted budget deficit, in the range of 3.4% of GDP, despite a strong growing economy, and in orthodox terms fuelling inflation.
Nevertheless the government's 'surgeons in numbers' can be expected to make the necessary combinations to ensure that the inflation index, and not necessarily inflation remain at a level below 10%. Cross your fingers and let the next government that takes office in March deal with the consequences of such contention inventive.