Bank of England inflation forecast, next week could give an idea on future hike
Saturday, August 9th 2014 - 06:33 UTC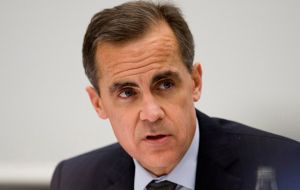 The Bank of England opted this week to keep its main interest rate at a record-low level of 0.50% against a backdrop of solid British economic growth. The central bank's nine-member monetary policy committee decided also to maintain the level of cash stimulus in the economy at £375 billion, it said in a statement.
Bank of England governor Mark Carney said last month that the BoE needed to start hiking record-low interest rates in the coming months as the British economy was rapidly gaining strength.
Speculation that a hike could come either late this year or early in 2015 have helped to boost the British pound against other currencies in recent months.
Reasons behind Thursday's decisions will be given next week when the Bank of England publishes its latest forecasts on inflation. Minutes of the latest policy meeting will be released in two weeks' time.
In the second quarter, Britain's economy grew strongly to become larger than before the global financial crisis. GDP expanded by 0.8% between April and June from the first quarter, when it grew by the same amount, recent official data showed.
The latest figures, along with a sharp fall in unemployment to the lowest level for five years, could give a boost to the government before a general election next year.
The Bank of England's key task is to keep British 12-month inflation close to a government-set target of 2%. The rate accelerated to 1.9% in June.
The International Monetary Fund recently forecast that growth in Britain, a member of the European Union but not of the Euro zone, would outpace the world's major advanced economies this year.