Griesa warns Argentina with 'contempt' if it continues with "false and deceiving statements"
Saturday, August 9th 2014 - 07:34 UTC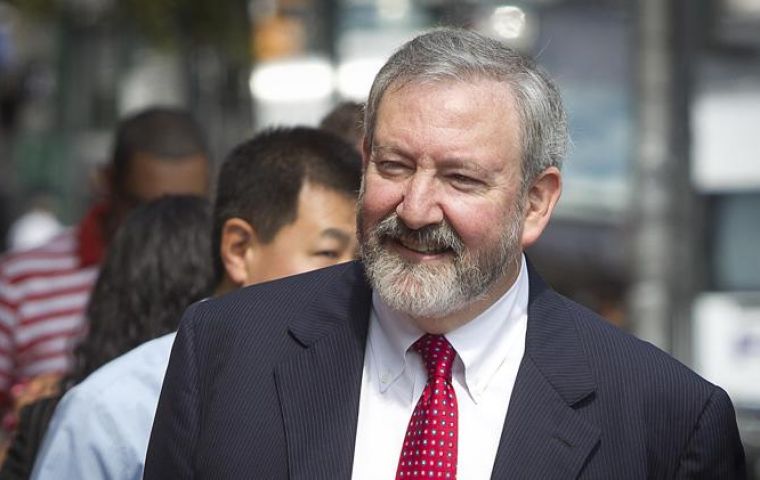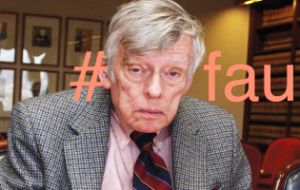 New York district judge Thomas Griesa on Friday threatened to declare Argentina in "contempt" of court if the Republic continues to make "false and deceiving statements," following Argentina's claim it has already paid exchange bondholders and has no pending obligations, as it deposited 539 million dollars in bond payments in Bank of New York Mellon (BoNY) and Citibank.
Representatives of both the country and holdout investors were called to the hearing, which started Friday at 4pm in New York.
"Argentina has not paid. There has been no payment. Argentina has to cease making false and deceiving statements," Griesa said in the hearing, and urged to continue negotiations between the parties under appointed mediator Daniel Pollack to reach an agreement.
On Thursday Griesa ordered BoNY to hold the Argentine funds and said the country's attempt to pay restructured bond holders was illegal, as he sentenced Argentina can only pay them if it also pays hedge funds that rejected the terms of debt restructurings in 2005 and 2010, while Argentina pressured BoNY and Citibank to deliver the funds.
Last week, lawyers for Argentina stood before Judge Griesa to argue that statements made by a court-appointed mediator, Daniel A. Pollack, about the country's default were "harmful and prejudicial."
Argentina then published a two-page ad in The New York Times and The Wall Street Journal on Thursday calling Judge Griesa's legal judgments "erroneous and improper" and calling into question the authority of Mr. Pollack.
The ad, entitled "legal notice," comes after a suit that Argentina filed this week against the United States in the International Court of Justice, contending that Judge Griesa's legal judgment violated its sovereignty.
In response, Argentina's lawyers were issued summons to appear in Judge Griesa's court on Friday.
The hearing on Friday is the latest in a multiyear legal battle between Argentina and the New York hedge funds, led by Paul E. Singer's Elliott Management, which are seeking full payment plus interest on bonds that the country defaulted on in 2001. Years after the default, Argentina offered bondholders new discounted bonds in exchange for a promise of regular payments.
But the group of hedge funds now blocking those payments refused to exchange their bonds. The so-called holdouts sued Argentina and in 2012 and won a significant victory when Judge Griesa ruled that Argentina could no longer make its regular payments to exchange bondholders without paying the more than 1.5 billion that the holdouts are demanding. Argentina refers to the holdouts as "vultures" and has described their actions as amounting to "extortion."
Argentina recently sought to vilify not just the hedge funds but also Judge Griesa, resulting in a social media campaign under the name "GrieFault". In Argentina, posters have been mounted around the capital of Buenos Aires with images of Judge Griesa's head imposed on the body of a vulture.
On Friday, Jonathan Blackman, a lawyer representing Argentina, raised concerns that he and his firm had also been the target of a "malicious" campaign to discredit his work. In a curious twist, he told the court that American Task Force for Argentina — which he asserted was funded by Elliott Management — had published images of his face imposed on the body of a vulture, accusing him of profiting from the entrenched legal battle.
Mr. Blackman also told the court that his firm, Cleary Gottlieb Steen & Hamilton, had nothing to do with the two-page ad and appealed to the judge to consider the fact that Argentina's default was of "immense public interest" and that as a sovereign country it was entitled to make statements outside of the court. Mr. Blackman called these statements a "side issue" to making progress on an agreement between the country and the holdouts.
But Judge Griesa, who at times took minutes to pause before emphasizing his point, countered that Argentina had to comply with a legal order that required it to honor all of its legal obligations.
"It's very simple," he said, pausing for a moment. "Payment of part is not payment of all."
In a statement on Friday, Special Master Pollack promised to continue to mediate negotiations between the holdouts and Argentina.
"Pursuant to the direction of the Court, I have continued to work to find a solution to the issues that divide the parties. As I have indicated, it is my intention to convene and conduct further negotiations until a solution is reached, however long that may take."
Mr. Pollack said he would have no further comment at this time.