First European Ebola infected dies; WHO approves unproven drugs for people at risk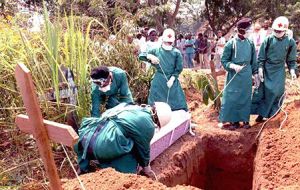 Spanish priest Miguel Pajares, 75, the first European infected by a strain of Ebola that has killed more than 1,000 people in West Africa, has died in hospital in Madrid, a spokeswoman for the city's health authorities said.
The spokeswoman declined to say when Pajares, who was airlifted from Liberia on August 7 after contracting the disease while working for a non-governmental organization in the African country, had died.
The priest was being treated in the Carlos III hospital, where he had been in quarantine since his return from Africa.
The Health Ministry said he was being treated with the experimental drug ZMapp, manufactured by US company Mapp Biopharmaceutical. Two US aid workers infected by the disease have shown some signs of improvements since being given the drug.
Pajares was repatriated with co-worker Juliana Bohi, a nun who has tested negative for Ebola.
Meanwhile a panel of medical experts from the World Health Organization ruled that it is ethical to offer unproven drugs or vaccines to people infected or at risk in West Africa's deadly Ebola outbreak. However it also cautioned supplies will be limited.
The panel said any provision of experimental Ebola medicines would require "informed consent, freedom of choice, confidentiality, and respect for the person, preservation of dignity and involvement of the community".
The drugs should also be properly tested in the best possible clinical trials, it said.
The West Africa Ebola virus epidemic - the world's largest and most deadly so far - has killed at least 1,013 of the more than 1,848 people it has infected in Guinea, Liberia, Sierra Leone and Nigeria. WHO has declared it an international health emergency.
"Ebola outbreaks can be contained using available interventions like early detection and isolation, contact tracing and monitoring, and adherence to rigorous procedures of infection control," the panel said. "However, a specific treatment or vaccine would be a potent asset to counter the virus."
The ethics panel met to discuss whether various experimental drugs and vaccines being developed for Ebola might be used in the outbreak, despite not having been fully tested or licensed.
"A number of interventions have been through the laboratory and animal study phases of development," it said in a statement issued by the WHO.
It said it was likely that so-called "first in man" trials - the first tests of a drug in humans - would be conducted over the next two to four months, but cautioned that even after that and if the trials proved successful, supplies would be limited.
"It is likely that the number of doses available for further study and/or deployment from end 2014 onwards will remain insufficient to meet demand," the statement said.