Galicia closes a third of mussel polygons because of resurgent bio-toxic red tide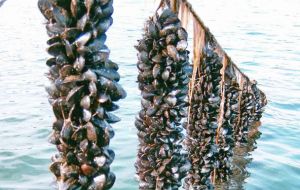 The Xunta of Galicia in the northwest of Spain banned the extraction of mussels in 18 of the 55 floating nurseries of the autonomous region, that is to say, in 32% of the total capacity because of the presence of lipophilic biotoxin.
The red tide had diminished last July, but in recent days has again peaked. Last week, 12 of the 18 mussel polygons affected with the bio-toxin were closed, reported the newspaper La Voz de Galicia.
Last Thursday, the Galician authorities banned the sale of bivalves that are farmed in four aquaculture parks: three in O Grove (C1, C2 and C4) and one in Cangas (Cangas C); and this Tuesday six centers located in Cangas (Cangas F, Cangas G, Cangas H) and in Bueu were closed.
Currently according to the latest reports the red tide has extended to the estuaries of Sada, O Grove, Baiona, Corme-Laxe, Pontevedra and Vigo.
The lipophilic toxin is safe for seafood, but in humans it causes serious digestive disorders issues and diarrhea.
According to Galicia's Secretariat of the Sea, it would be premature to decide how much and far the red tide will advance and whether or not it will be worse than the one that hit the sector in 2013.
At present, the local government decided to distribute 1.5 million Euros among the mussel producers, and anticipated that the beneficiaries will receive 60% of the money they lost or are losing because of the current red tide spell.