YPF announces new shale oil find in Neuquen-Mendoza area
Friday, August 15th 2014 - 02:24 UTC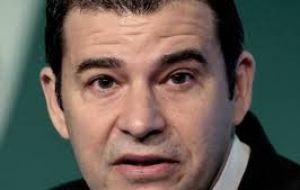 Argentine state-controlled energy company YPF on Thursday announced a shale oil find in the southwestern province of Neuquen in Patagonia. The discovery was made at the Agrio formation, according to CEO Miguel Galuccio, who said at a press conference that production operations will be carried from the neighboring province of Mendoza.
"It's the third time we've discovered oil at a non-conventional (shale) well," Galuccio said, adding that the find "could be very significant for Mendoza, which has very mature fields."
"I was there (Wednesday night) until 2:00 a.m. waiting for the well to be cleaned; that's why we still can't provide the production level, but we think it's going to be very significant," the chief executive said.
Argentina is counting on the development of non-conventional hydrocarbon resources, especially those in the massive Vaca Muerta shale formation in Neuquen, to achieve its goal of "energy self-sufficiency," Galuccio noted.
He said the legal battle in the United States pitting President Cristina Fernandez's administration against a group of holdout hedge funds demanding full payment on debt that Argentina defaulted on in 2001 will not have a negative impact on the company's immediate plans.
"We're fine. We have 1.5 billion dollars. No short-term ups and downs are going to affect the operation," the CEO said when asked about Vaca Muerta.
Galuccio also said YPF has begun offshore operations at three blocks.
YPF's second-quarter net income came in at 1.5 billion pesos (184.7 million), up 39.9% from the same period of 2013