Billionaire Soros becomes the fourth largest holder of YPF shares
Saturday, August 16th 2014 - 11:15 UTC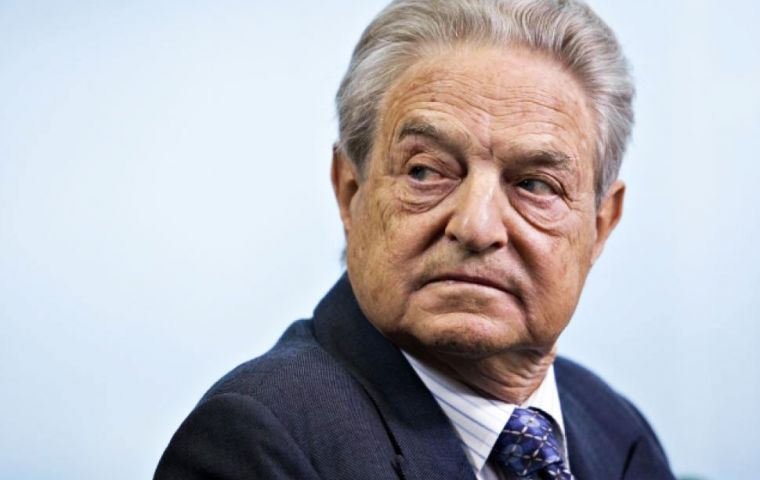 George Soros's 28 billion family office boosted its stake in YPF SA, making Argentina's largest oil company its biggest U.S.-traded stock holding in the second quarter. Soros Fund Management LLC added 8.47 million shares of YPF, according to a regulatory filing Thursday, bringing its total position to 3.5% of the company's American depositary receipts.
The position was worth 450 million dollars at the end of June, making Soros the fourth biggest holder. Perry Capital, the 10.9 billion hedge-fund firm run by Richard Perry, and Dan Loeb's Third Point LLC also added significantly to YPF in the second quarter.
New York-based Soros also trimmed its holding in Israeli drug-maker Teva Pharmaceutical Industries Ltd. by almost one-third. Soros still owned a stake valued at 381 million dollars at the end of the quarter. Teva had been Soros's largest holding.
Soros exited a stake in Monster Beverage Corp. that was previously valued at 101.6 million. Coca-Cola Co. said Thursday it would buy a 16.7% stake in Monster, sending the shares up more than 20% after the market close.
YPF returned to the international debt markets last year and sold 1 billion of bonds due 2024 in May to finance its exploration and production program.
In 2012, President Cristina Fernández submitted a bill to Congress to discuss the expropriation of a 51% stake in YPF from Spain's Repsol, a project that was signed into law in May that year bidding farewell to the Spanish firm's 15 years of business, facing fierce accusations of 'disinvestment' by national authorities in Argentina.
The Argentine government agreed to compensate Repsol with 5 billion of bonds earlier this year, and the Spanish energy producer sold the majority of its remaining shares in the company afterward.
On Thursday YPF said it discovered oil at a well in the Agrio formation in southwestern Patagonia, the third shale find in the country in four years. Agrio is in the Neuquen basin, the site of Vaca Muerta, the world's second-biggest shale gas deposit and fourth-biggest shale oil deposit.