First Kirchnerite governor crosses the line and joins opposition group
Monday, August 18th 2014 - 06:13 UTC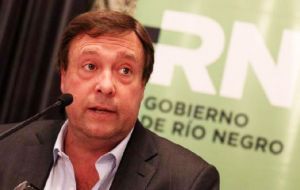 The governor from the Argentine province of Rio Negro has decided to cross the line and join one of the leading opposition groups whose head is a strong presidential hopeful for October 2015. The move can be threatening to the government of President Cristina Fernandez if more disenchanted elected officials follow or their lawmakers also decide to cross the line and could jeopardize the government's majority in Congress.
Amid a crisis within local ruling Victory Front (FPV) party, the Governor of Río Negro province Alberto Weretilneck has said he feels "outside of the Victory Front" due to local PJ party "expulsive attitude", and admitted he is closer to Renewal Front's Sergio Massa, who he described as "the person Argentina needs".
"I am being pushed out [of the Victory Front] by the expulsive attitude of the Río Negro PJ's leaders. Every day, they permanently pushed me outside of the space we had built. Therefore, I do not wish to stay where I am not wanted. I feel outside of the Kirchnerism," Weretilneck said in an interview.
The governor has two political active fronts, one with FPV's senator Miguel Angel Pichetto, who has launched his own candidacy for governor for 2015, and another one on a national level against the federal government after he opposed the hydrocarbons law encouraged by president Cristina Fernández.
Under the new law, the federal government has the initiative and takes the lion's share to the loss of oil and gas producing provinces. The idea basically is to give government managed YPF more leeway to negotiate with foreign investors and not have to continue with a second round of negotiations with the usually cash-strapped provincial governments.
Weretilneck said he had met with Renewal Front's lawmaker Sergio Massa "in a social gathering" and that he had contacted him again later. "We have established a relationship. It is true, we are talking," he added in reference to the rumors about him joining Massa's bloc.
"I believe Sergio [Massa] is the person that Argentina needs and that Río Negro needs," he stated. Weretilneck said "a stage is ending for Argentina" and that he is focused on "what is next for the country".
"In that new Argentina Sergio Massa not only has good chances of becoming president, but also the idea of federalism that interests me," the governor added.
At congressional level the ruling Victory Front still has the necessary majority for quorum and to uphold a veto, but as election year approaches and the economy deteriorates, there could be an erosion of 'wet' Kichnerites.