Scientists create a carbon dioxide absorbing 'polymer sponge' that helps new energy sources
Monday, August 18th 2014 - 07:04 UTC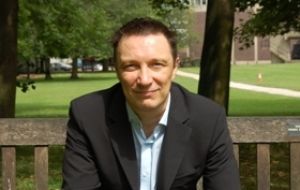 Scientists have created a new sponge-type material that absorbs carbon dioxide, which is believed to play a key role in global warming. The polymer – a large molecule used in plastics – is thought to have the potential to bridge the gap between the use of fossil fuels and new energy sources such as hydrogen, and could be integrated into power plant smokestacks in the future.
Carbon dioxide adsorbents are already in use to remove greenhouse gas pollutants from smokestacks at power plants where fossil fuels like coal or gas are burned.
But it is envisaged that the new substance would be a part of an emerging technology called an integrated gasification combined cycle (IGCC), which can convert fossil fuels into hydrogen gas.
Hydrogen is widely considered to have great potential for use in fuel-cell cars and electricity generation because it produces almost no pollution.
IGCC is a bridging technology that is intended to jump-start the transition to hydrogen fuel, while the existing fossil-fuel infrastructure is still in use.
Addressing the 248th National Meeting & Exposition of the American Chemical Society (ACS), Dr Andrew Cooper of Liverpool University said: "The key point is that this polymer is stable, it's cheap and it adsorbs CO2 [carbon dioxide] extremely well.
"It's geared toward function in a real-world environment. In a future landscape where fuel-cell technology is used, this adsorbent could work toward zero-emission technology."
According to Dr Cooper, the sponge works best under the high pressures necessary for the IGCC process. Just like a regular sponge swells when it absorbs water, the adsorbent swells slightly when it soaks up carbon dioxide in the tiny spaces between its molecules.
When the pressure drops, the adsorbent polymer deflates and releases gas, which can then be collected for storage or converted into carbon compounds. Better yet, it appears that it won't cost the earth to try to help save it.
"Compared to many other adsorbents, they're cheap," Dr Cooper said, adding: "In principle, they're highly reusable and have long lifetimes because they're very robust".