US Panama Canal workers recall and celebrate the century old feat
Monday, August 18th 2014 - 07:19 UTC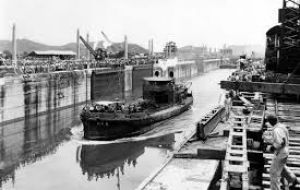 The 100th anniversary of the opening of the Panama Canal, hailed at the time as one of the world's great wonders, has inspired a celebration in central US state Florida to showcase the experience of the US canal workers behind the engineering feat.
Vintage photographs, rare maps and vibrant indigenous textiles are highlights of a museum collection assembled by the Americans who lived and worked in the Panama Canal Zone, a 1,139-sq-km area that spanned both sides of the shipping channel connecting the Atlantic and Pacific oceans.
Their contributions, as well as Panama culture, are the focus of three days of events which began at the University of Florida in Gainesville that has acquired one of the largest and most diverse collections of Panama Canal history in the United States.
"The centennial is important because it brings to life a great achievement of the United States," said Joe Wood, 77, who lived in the canal zone until he retired to Florida and helped found the museum collection. "It would have been considered the moon shot of its day," he added.
Built by the United States in a 10-year construction effort after failed French dig, the 77-km-long canal opened on Aug. 15 1914, instantly becoming a vital global trade route.
For much of the century, the Canal Zone was operated as sovereign US territory by a proud community of "Zonians," as many called the Americans living and working there. They had their own schools and housing, manning the canal and a series of US military bases, yet many also embraced Panama's culture as their own.
The workers brought boxes of photographs, newspapers and eclectic souvenirs like giant Rhinoceros beetles encased in resin and a railroad spike - all pieces of history from the canal era.
To preserve the collection that grew to more than 16,500 objects, they organized the Panama Canal Museum, which the aging volunteers transferred to the University of Florida two years ago.
The university's centennial celebration marks the launch of exhibits that will remain on display through the fall. Events include lectures, a concert and a family-friendly event on Saturday featuring traditional pollera dancers and storytelling.
Many photographs can be viewed online at http://ufdc.ufl.edu/ps/combinedimages
"We like to say that this collection came with a fan club," said Lee Herring, communications assistant at the university's George A. Smathers Libraries, which houses the collection."They are very passionate about their history," she said.