Chilean Peso depreciation expected to continue in coming months
Saturday, August 23rd 2014 - 06:46 UTC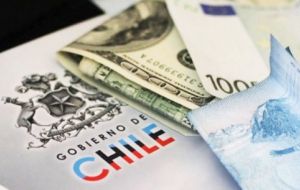 The US dollar climbed to 584 Chilean Pesos at the end of trading in the Santiago money market, signaling a slow but steady increase for several months now and with prospects of continuing according to analysts. A greenback at 600 Pesos is not far away according to market analysts.
The strong performance of the US dollar in world markets, mainly vis-à-vis the Euro, plus the weak performance of European stock exchanges put additional pressure in the Chilean money market.
And this despite the fact that copper price, the country's main export, (Chile's is the world's leading producer and exporter) marked a growing tendency because of more encouraging prospects for the US economy, which shadowed China and Europe's ongoing problems.
At the end of Friday trading copper increased 1.21% at the London Metal Exchange, completing 3.4% in the week and now stands at 3.21506 dollars the pound of A grade quality.
However prospects are for the Chilean currency to fall further as the central bank monetary policy easing, market volatility and a recovering U.S. economy boost the value of the dollar. The peso has slipped around 19% versus the dollar since January 2013.
An expansive monetary policy, with Chile's central bank cutting the benchmark interest rate by 150 basis points since October in a bid to reverse an economic slowdown, has made the Peso less attractive and helped fuel its depreciation. This means the dollar could be trading at 600 Pesos in a near future, which also has a good side for Chile.
Labor intensive exports such as those from agriculture and forestry could rapidly recover from years of an overvalued Peso, in dollar terms, which had a strong cost impact in local production and manufacturing.