Despite overall slowing down in Chile, Magallanes region continues to grow
Saturday, August 23rd 2014 - 07:14 UTC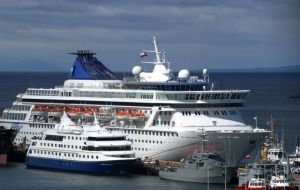 Although overall Chile is undergoing a period of economic deceleration, which the government is trying to address with lower rates and full execution of public works investments, the Magallanes region in the extreme south of the country was among those with the best performance in the second quarter having expanded a healthy 2.8%.
According to the Regional economic activity index, Inacer, Magallanes in April-June expanded 2.8% over the same period a year ago, and thus increasing 9.8% in the first half of the year, the fastest in Chile.
However Paul Gnadt head of the Economy ministry regional secretary, the index is not that solid in the long term horizon: "Yes there is a positive growth and even more if we analyze both quarters. But looking in detail there is something wrong in the economic structure of the region, that is why our ups and downs".
And some of the sectors contributing to this less enthusiastic attitude are construction, housing, retailing, restaurants and hotels. "Deceleration is a slow term process, and different sectors add up, to which in this case we must include financial turmoil in Argentina which has had an impact on retailing and tourism".
Likewise and surprisingly, mining also declined particularly the open pits at Pecket, close to Punta Arenas, and this because of lower global coal prices.
"All this comes to show the fragility of our current economic structure, the strong dependency of the Argentine market and of mining and of oil and gas if we eventually find enough in commercial volumes".
While on the positive side, Gnadt mentioned aquiculture and fisheries, with an increase in Atlantic salmon harvest; manufacturing, mainly methanol; beer; beef production; textiles; fishing canning; forestry plus beef and wool.
Summing up, despite the slowdown there are sectors that have managed to outstand such as agriculture, livestock and aquiculture which helps pull power, transport and financial services. The regional economic cabinet should be meeting in the near future to assess results and identify those areas that are helping to prop the local economy.