"Significant drop" in cruise calls in Uruguay this coming season
Saturday, August 23rd 2014 - 07:21 UTC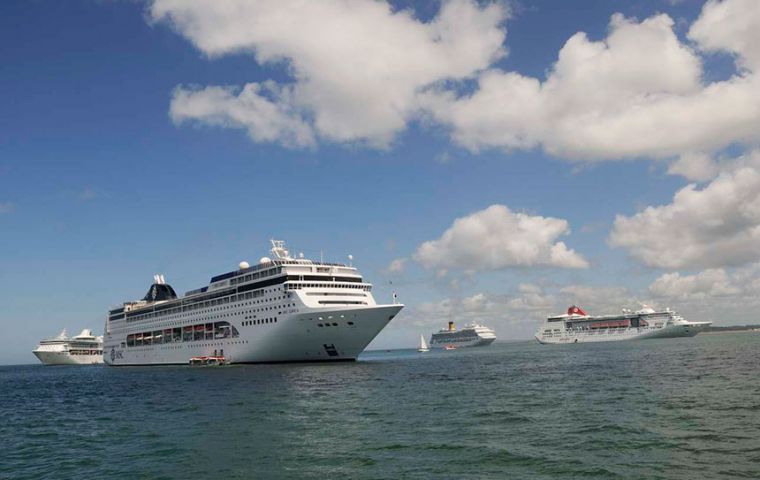 A significant drop in the number of calls and visitors is forecasted for this coming 2014/15 cruise season in Uruguay, according to tourism officials. While in the last season Uruguay received 238 cruise calls, beginning November the number is expected to drop to 187, this apparently because of the very high costs in the ports of Buenos Aires and Brazilian terminals.
According to official Uruguay stats, last season of the 238 calls, 121 were in Montevideo and 117 in the Atlantic resort of Punta del Este, with a total number of 409.367 passengers, 55% in the Uruguayan capital and 45% in Punta del Este. However this coming season, Montevideo will receive 115 calls and Punta del Este, only 72.
The first cruise of the season is expected in Punta del Este on November 28th, "Marina", while the last on 29 March, the "Splendor of the Seas". Extraordinary dates will be 26 February when four cruises will coincide in Punta del Este and three on January 7 and 29.
The data was revealed during a business meeting in Punta del Este, by Ana Pascale who until that moment was head of the Cruise Department as the Uruguayan Ministry of Tourism. Pascale has now been transferred to the Hydrograph Department as an advisor to the Punta del Este marina.
One of the reasons for lesser operations in Punta del Este is the fact that Costa Cruises, has decided to centralize its boarding operations and passenger turnovers in Montevideo. This means Costa cruises will call in Montevideo on 22 occasions and three in Punta del Este.
Both Costa Cruises and Mediterranean Shipping Company, two of the leading companies operating along South Atlantic ports have long complained about ports costs and duties, and although Montevideo was not mentioned, Punta del Este was included in the list since passengers have to be landed in launches and this has proven to be far too expensive, as well as most prices in the seaside resort.
However a voluntary poll from the Ministry of Tourism revealed that last season, 65% of visitors were satisfied with services and attractions in Punta del Este, while, 18% complained about prices and 1%, poor hygiene conditions including toilets and garbage in streets.
A regular cruise that ceases operations in Uruguay this coming season is "Grand Celebration".