Brazilian consumers' confidence at its lowest in more than five years
Tuesday, August 26th 2014 - 07:35 UTC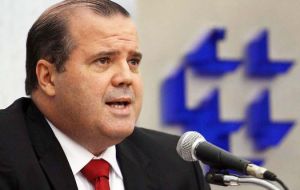 Brazil's consumer confidence deteriorated sharply in August to its lowest level in more than five years, the think tank FGV said Monday. The consumer confidence index fell to 102.3 from 106.9 in July. The score was the lowest since April 2009, when it was 99.7. In July, the index had risen strongly from April's 103.8.
Both current situation and expectations indexes declined in August. The current conditions index of the survey from the Getulio Vargas Foundation tumbled to 107.2 from 113, the lowest since May 2009, when the score was 103.
The expectations measure eased to 100.1 from 101.2, which was the weakest reading since March 2009, when it read 97.6.
After an expansion of 2.5% in 2013, Brazil's economy is expected to expand less than 1% this year, a rate that economists consider too low for a developing nation.
The consumer-confidence index polls 2,000 families in Brazil's seven largest cities. It measures the willingness of families to make purchases of various types of consumer goods and gauges expectations about employment, income and economic opportunities.
Central bank President Alexandre Tombini said Aug. 23 at a conference in Jackson Hole, Wyoming, that consumer-price increases in Brazil have remained within the official "tolerance range" for 10 straight years.
"Despite inflation persistence that arises from services prices combined with adverse supply shocks, monetary policy has been able to keep inflation under control," Tombini said.
On Monday Brazil reported a trade deficit of 214 million dollars in the week ended Aug. 24, compared with a 684 million surplus during the previous week.