Socialist Hollande converts into orthodoxy: names former Rothschild banker in Economy
Wednesday, August 27th 2014 - 21:03 UTC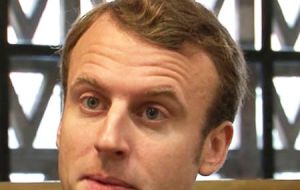 French president Francois Hollande has replaced his maverick leftist economy minister with a former Rothschild partner in a reshuffle intended to reconcile his efforts to revive the stagnant French economy with deficit-cutting orthodoxy.
 The shake-up is the latest episode in the wrangling across Europe about how much budgetary rigor the region's economies can bear as they recover from financial crises. For Hollande, who is revamping his government for a second time in two years, it could be his last chance to make a success of his presidency.
Arnaud Montebourg, ejected from the key economy ministry post this week after his latest tirade against German-enforced "austerity" in the Euro zone, was replaced by Emmanuel Macron.
Macron, a 36-year-old former merchant banker, acted as Hollande's top economic adviser until June and was widely known in French business circles as their "ear" at Hollande's presidential palace, otherwise largely packed with technocrats.
The new cabinet makes its debut just a few weeks ahead of tough negotiations at home and with EU peers on a 2015 budget widely expected to break promises to Brussels over deficit cuts.
Sources close to Hollande said the new cabinet, whose names were read out on the steps of his Elysee Palace, would carry out his plan of reconciling pro-business measures to boost growth - including 40 billion Euros in corporate tax cuts - with promises to adhere to EU budget rules.
"We need it to act in such a way as to ensure solidarity, respect and consistency," one source said of Hollande's bid to draw a line under two years of confused leadership that has seen his popularity ratings spiral to record lows.
Hollande's former coalition partners, the left-wing Greens, will field no ministers in the new cabinet. Senior Green Jean-Vincent Place said "the conditions were not met" for them to have a role in government.