Argentina says it won't yield to unions; controversy over success of the national strike
Friday, August 29th 2014 - 06:04 UTC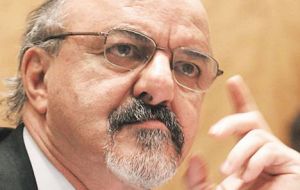 Argentina's Labor minister Carlos Tomada said that it is not a government's priority to discuss the modification of the income tax or re-opening wage talks, as dissident unions demanded during a general strike on Thursday which partially paralyzed Buenos Aires city since several transport unions joined the stoppage.
"It is not our priority. The vast majority of workers don't have anything to do with those claims," Tomada told reporters during a press conference. He added "there is no reason to re-open wage talks. Most of the salary raises negotiated have not even been fully put into place".
Meanwhile dissident organized labor CGT head Hugo Moyano thanked workers for joining the strike, which he insisted on describing as a "total success", and warned the government "further measures" will be taken if their claims are not listened.
"I demand the government to start giving answers to our claims. Inflation has sky-rocketed. The workers' salary is no longer good enough," the union leader said during a press conference held at CGT's headquarters in Buenos Aires, together with White and Blue CGT leader Luis Barrionuevo and Rural Workers' union leader "Momo" Venegas.
"If they don't listen to our claims, we will be forced to take further measures," Moyano added evaluating Thursday's walkout, the third national strike against President Cristina Fernández administration.
Barrionuevo agreed with Moyano and claimed the next demonstration will "take the streets", saying workers will gather in front of the Government's House in Plaza de Mayo.
"Today we stayed inside, we stayed in our homes. The next time, if things don't get better, the workers will have to take the streets. And we won't gather here, we'll go to Plaza de Mayo," he said.
Moyano said the strike was a response to a government that "denies reality" and "has lost touch with the people."
"They deny the success of the strike. But we all could see in our television screens that streets were empty, that buses were empty. They are no longer believable. People wanted to strike and we have successfully represented the peoples will," the union leader said.
The 24-hour strike called by the anti-government unions and leftist groups included pickets and road blocks across Buenos Aires City. However by mid morning Thursday the pickets organized by the left wing and radical groups had been lifted.
The walkout halted all train services and some subway lines, but most bus services were offering emergency services.
"The strike called by anti-government unions is not being supported by the majority of the labor movement", warned ruling Victory Front (FpV) party MP Héctor Recalde who added that the protest action was a "failure."
"All strikes have a political nature and that is good, people have to take part in politics but this opposition bias it is they (unions) that are bringing it up," Recalde told reporters but cautioned the walkout could turn into a "boomerang" against union leaders calling it.
Some of unions' vindications, the lawmaker and labor law expert added, are "shared" by the government and expressed his confidence that the Cristina Fernandez administration could move to "change" the income tax scheme "globally."
Still, Recalde rejected demands to have collective bargaining talks reopened saying that such issues must be discussed with the business sector, "not with the government."
"Some (salary) agreements were signed in June, July and August. Do we have to talk about union leaders' lack of foresight?", he emphasized.