Argentina will only negotiate with all bondholders: no more piecemeal debt talks
Friday, August 29th 2014 - 05:56 UTC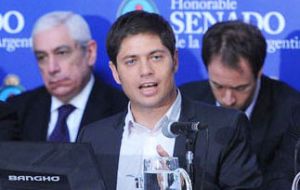 Argentina's government ruled out further piecemeal debt talks with a small group of U.S. hedge funds (holdouts) and said the country needed to strike a deal with all bondholders including those which have rejected past restructuring agreements as a single group.
Last month Argentina was declared in 'selective' default after failing to reach an agreement with a group of holdout funds led by NML Capital Ltd and Aurelius Capital Management, which are suing for full payment on their bonds.
"We have to negotiate with everyone," Economy Minister Axel Kicillof told a group of congressional committees this week, who insisted that Argentina was not in default since it had deposited the money for bond holders on time at a New York bank. However the bank following a ruling from Judge Thomas Griesa has refused to go along with payments as demanded by Argentina.
With that in mind Argentina's Congress began debating on Wednesday a draft bill designed to sidestep the US court ruling banning Argentina from servicing performing debt until it pays the litigating funds 1.3 billion plus interest.
"The main aim of the draft bill is to show that Argentina can pay its debt and wants to pay its debt," senior government official and Executive Secretary Carlos Zannini told the same hearing.
Kicillof's comments poured cold water on already dim hopes the government might resume talks with NML and Aurelius in early 2015 following the expiration of a legal clause preventing Argentina from paying holdout investors on better terms than those obtained by investors which accepted restructuring agreements in 2005 and 2010.
Investor optimism for a deal suffered a hammer blow last week when President Cristina Fernandez announced plans to make debt payments locally and to 'voluntarily' push bondholders to bring their debt under Argentine law.
Zannini said the long-term plan was to bring all Argentina's sovereign debt under Argentine law. President Cristina Fernandez tough stance against the funds she denounces as "vultures" has won support among a percentage of Argentines, but most opposition groups in Congress have anticipated they will not support the bill, because "the government wants to make us blind associates of their incompetence and mismanagement of Argentina".
Media reports from New York anticipate that "Special Master" Daniel Pollack named by Judge Griesa to attempt a mediation between the Argentine government and the holdouts, could be calling on both sides for a new meeting in New York to continue with the so far unsuccessful talks.