Falkland Islands: "looking good for cruise ship season"
Sunday, August 31st 2014 - 10:36 UTC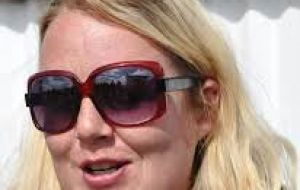 THE 2014/15 cruise ship season is looking good for the Falklands, with approximately 52,000 passengers due to land with 86 calls to Stanley and a further 113 calls to various Camp landings as well.
Sulivan Shipping Tourism Co-ordinator Sammy Marsh said: "This is a slight increase on last season where we had forecast an anticipated 47,500 cruise ship passengers with an 39,500 actual visitors landed and a total of 74 different calls.
We did have nine cancellations last season, primarily due to bad weather."
The majority of last seasons visitors were from the USA, closely followed by Brazil, the UK/Europe and Asia.
"One of the key things we noticed this season," said Ms Marsh, "was the increase in Asian and European, primarily Russian, visitors, it is very promising to the industry to see a rise in different source markets.
"As always, we are looking forward to another busy season ahead. I am especially looking forward to the opening of the Historic Dockyard and Museum for this season, which has involved a lot of hard work from the museum team.
"The Dockyard will definitely enhance the visitor experience, giving them a chance to learn more about the Falkland Islands in a fantastic space."
The museum will be open to the public on Tuesday September 9.
In Legislative Assembly yesterday MLA Gavin Short confirmed that Ross Road, currently undergoing road works would be open by the time the first large vessel visit Stanley. (Penguin News)
More information www.falklandislands.com