Several 'plagues' hit Italy: recession, deflation, job losses and little hope ahead
Monday, September 1st 2014 - 11:06 UTC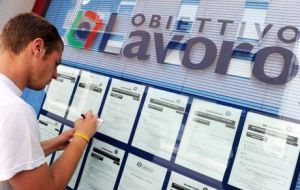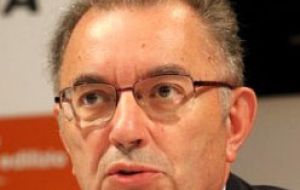 The Italian economy contracted by 0.2% in the second quarter of 2014, Istat said Friday, confirming the continuation of the country's longest postwar recession. GDP was down 0.1% in the first quarter, it added. Likewise deflation hit Italy in August for the first time in more than 50 years, while unemployment rose again in July by 0.3% over June to 12.6%.
Unemployment in recession-hit Italy rose again in July by 0.3% over June to 12.6% after falling slightly in June, Istat said. It was 0.5% up on an annual basis. The jobless rate is now back where it was in May, close to all-time highs.
Italian youth unemployment fell 0.8% to 42.9% in July but rose 2.9% on an annual basis, Istat said. Some 705,000 under-25s are looking for a job, the statistics agency said.
The number of employed in Italy fell 0.2% in July or by 35,000 units, Istat said. That was the same as losing more than 1,000 jobs a day, it said. It was also down on an annual basis, by 0.3%, or 71,000 units. The number of unemployed in Italy rose 2.2% or by 69,000 in July to 3.22 million, Istat said. It was 4.6% up on July 2013, or 143,000.
Unemployment has been stubbornly high amid Italy's longest postwar recession. The government has lined up a raft of measures to combat it, many of which will be examined at a key cabinet meeting later Friday. These include an Unblock Italy decree to free entrepreneurs from the chokehold of red tape and justice reforms aimed at removing disincentives to investment.
Deflation hit Italy as consumer prices fell 0.1% in August, Istat said in preliminary estimates Friday. The price index had risen 0.1% in July. Fuel prices, 1.2% lower than the same month in 2013, led the downward price spiral. It is the first deflation in more than 50 years, since September 1959, Istat pointed out.
But back then, unlike now, the economy was growing strongly. The consumer price index fell 1.1% in September 1959 after seven straight months of drops. Insat reported that the 'shopping trolley' of most commonly bought goods went into deflation in August. The prices of food, household goods and personal care goods fell by 0.2% over the year, it said in its preliminary estimates.
"Shock" treatment is needed for the economy after the latest figures indicated that Italy will end 2014 with GDP down by 0.2% or 0.3%, Confindustria chief Giorgio Squinzi said Friday. The employers' chief said he was not optimistic but was hoping for a "miracle" in the last quarter of the year. Italy is in a "dramatic situation" and "painful choices" are needed to lift the economy out of deflation and recession, Squinzi said