Timerman presents plan to regulate sovereign debts before the UN on Tuesday
Monday, September 1st 2014 - 13:46 UTC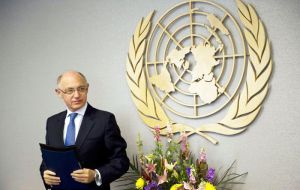 Foreign Minister Hector Timerman referred to Argentina's plan to regulate international debt restructurings, to be presented on Tuesday before the UN's General Assembly, and stressed the importance of the project saying that "the legal loophole is huge" and that it affects "most of the countries in the world."
The official said that "after (US) judge Thomas Griesa's ruling and the campaign carried out by vulture funds'(…), many countries have realized that the situation was becoming explosive." He added: "Then, many thought 'what is happening to Argentina can happen to us'".
Speaking to a local newspaper, Timerman called for a "regulatory framework for debt restructuring process that is not only economical but political and social."
"(Debt) restructurings should consider the factors that have an impact in a country. They cannot jeopardize social development by the extortion of a tiny group of financiers that have put many countries on the brink of an unsustainable situation," the chancellor added.
Regarding the project to be presented at the UN, Timerman said that the international convention on debt restructuring that Argentina seeks should allow "countries to restructure sovereign debts while they continue to develop."
Argentina's proposal was backed by nations gathered in the G77 group and China, among others. It states that if two thirds of bondholders accept restructuring terms, the rest of bondholders must accept them as well.