Dragui and Hollande agree to spur demand and head off the risk of deflation
Tuesday, September 2nd 2014 - 08:36 UTC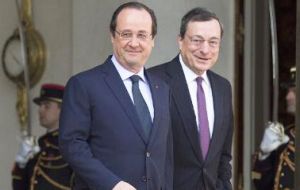 French President Francois Hollande and Mario Draghi the head of the European Central Bank (ECB) have agreed that European demand must be lifted to head off a risk of deflation, French officials said.
The two men, who met on Monday in Paris for talks, share the same "worry about growth and inflation" in Europe and believe that demand must be boosted, officials added.
The central bank chief welcomed France`s willingness to raise its growth through structural reforms as part of a reform package worked out with employers, according to the Elysee Palace.
The meeting comes as Draghi is under pressure with inflation in the Euro zone continuing to fall to 0.3% in August, setting off alarming bells ahead of a major ECB meeting on Thursday.
Draghi had earlier talked by telephone with the German Chancellor Angela Merkel, her spokesman confirmed.
The German weekly Der Spiegel claimed that she wanted to know "what he meant" when he told a meeting in Jackson Hole in the US that he was ready to "further adjust" monetary policy. Berlin later denied that Draghi had been dressed down by the chancellor.
Some interpreted his comments as a hint of Europe easing curbs on public spending, but Germany, which is wedded to monetary orthodoxy, tried to play this down, with Finance Minister Wolfgang Schäuble saying the speech had been "over-interpreted".
In France, which has long pushed for a growth-led approach to drag Europe out of crisis, the comments came at sensitive time in the middle of a major political debate around austerity.