Argentine presidential election 25 October 2015, and run-off 24 November
Wednesday, September 3rd 2014 - 09:00 UTC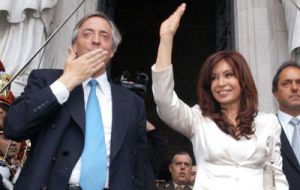 Argentina's National Electoral Register has confirmed that the first round of presidential elections will take place on October 25 2015, with a run-off penciled in for November 24 if no candidate takes enough votes to win outright.
The Primary, Open, Simultaneous and Obligatory (PASO) elections, meanwhile, are scheduled for August 9, according to a calendar published on Tuesday by the DNE on the commission's official website.
April 28 marks the start of the electoral process with the close of the Electoral Register, while on May 8 the provisional ballots will be released.
On June 10 the deadline for the presentation of alliances expires, while on July 10 the electoral campaign will officially begin.
Following the PASO, the diverse political parties and fronts will have until September 5 to present their final candidates, who will be made official by the courts five days later.
That milestone will be followed on September 20 by the official start of presidential campaigning, while from October 20 onwards government acts will be prohibited.
Should no candidate take more than 45% of the vote on October 25 or fail to achieve a 10-point lead having won more than 40%, a run-off will take place between the two leading candidates, just under a month after the first round on November 24.