Barclays moves out of Spain; sells operations to CaixaBank for 800 million Euros
Wednesday, September 3rd 2014 - 05:50 UTC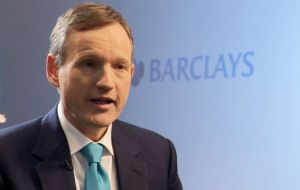 Spain's third-biggest lender, CaixaBank SA agreed to buy Barclays Plc banking operations in the country for about 800 million Euros (1.1 billion) in cash to expand its business as economic growth picks up. The sale includes consumer, wealth and investment management and corporate banking businesses, Barcelona-based CaixaBank said in a statement.
The price represents about 47% of the book value, it said. Barclays, the UK's second-largest lender, will report an after-tax loss on the sale of 500 million pounds (831 million dollars), the London-based bank said in a separate statement.
CaixaBank will add about 270 branches to its existing network of 5,695 and boost its client base by 550,000 to more than 14 million with the Barclays's purchase. The purchase follows Banco Bilbao Vizcaya Argentaria SA (BBVA)'s decision in July to acquire nationalized lender Catalunya Banc SA as the country's economic recovery spurs deals.
Barclays CEO Antony Jenkins, 53, is cutting costs, shrinking assets at the non-core division and eliminating jobs to reduce the lender's dependence on the investment bank in a bid to restore investor confidence. The bank this week completed the sale of its United Arab Emirates consumer banking business to Abu Dhabi Islamic Bank (ADIB) for an estimated pretax gain of 119 million pounds.
"I am pleased to be announcing further progress on Barclays non-core asset reductions through the transactions," Jenkins said in the statement. "We remain on track to rebalance Barclays as part of our strategy to deliver sustainable returns for our shareholders."
CaixaBank estimates 150 million Euros in cost savings in 2016 from the deal, according to a presentation sent to the Spanish stock market regulator. The transaction will contribute about 80 million Euros to net results in 2016, with restructuring costs of about 300 million Euros.
CaixaBank CEO Gonzalo Gortazar said in an analyst conference call that Barclays business in Spain has a "significant efficiency issue."
"It is a matter of scale, and in CaixaBank we have scale," he said. "We are the largest bank so we can actually, in a very simple transaction, integrate the businesses and keep the very positive things Barclays have to offer and make it more efficient."