Latin America has the worst homicide and abuse stats in children and teenagers
Saturday, September 6th 2014 - 06:23 UTC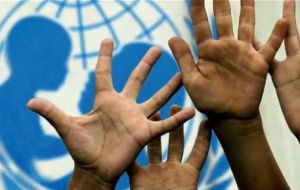 Latin America and the Caribbean have the largest share of homicides among children and adolescents in the world, revealed a UNICEF report released yesterday. According to the study, in 2012 alone, "more than 25,000 homicide victims in the region were below the age of 20 — representing about one quarter of all homicide victims worldwide."

This translates into a homicide rate of 12 victims per 100,000 population, three times the global average of four per 100,000. At least in part, UNICEF attributes this "pattern of lethal violence" to the "illicit activities of organized criminal groups, the presence of street gangs and the accessibility of firearms."

According to the UN organization, around 30% of all homicides in the region are related to crime and gangs and two thirds are perpetrated with a firearm.

Homicide is the leading cause of death among males between the ages of 10 and 19 in several countries in Central and South America, including Panama, Venezuela, El Salvador, Guatemala and Brazil, in which the youth homicide rate is only second to Nigeria.

Nigeria — where the Boko Haram terrorist group abducted more than 200 schoolgirls in April and threatened to marry them off — had the largest number of young murder victims, with almost 13,000 deaths in 2012, followed by Brazil with about 11,000, the study found.

Among countries in Western Europe and North America, the United States has the highest child homicide rate, UNICEF said.

Sexual violence against children is also widespread. According to the report, about one in 10 girls worldwide, an estimated 120 million, have experienced forced intercourse or similarly forced acts, and one in three married adolescent girls, about 84 million, have been victims of emotional, physical or sexual violence committed by their husbands or partners.

The report showed the impact of violence on children has grown over the last decade and cited a number of reasons why the phenomenon remains largely ignored.

Violence against children in some countries is socially accepted, tacitly condoned or not seen as being abusive, UNICEF said. Victims are too young or too vulnerable to report the crimes, the legal system can't adequately respond, and child protection services are also scarce.

On average, about six in 10 children worldwide, or almost one billion, between the ages of two and 14 are subjected to physical punishment by their caregivers on a regular basis.

The report also says that children regularly experience violence in their own homes and at a young age. Only 39 countries worldwide protect children legally from corporal punishment, the report found. Often the violence goes unreported.