Opposition parties five points ahead of Uruguay's ruling coalition for October election
Tuesday, September 9th 2014 - 04:57 UTC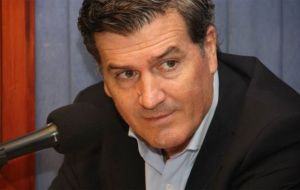 With less than fifty days to national elections when Uruguayans will vote for president and a new parliament (26 October), public opinion polls indicate that the ruling coalition until a few months ago the undisputed winner, faces a runoff and whoever wins will have to rule with a divided legislative.
The latest polls released on Monday show the ruling coalition with 42% vote intention, while the main opposition parties, National and Colorado, 32% and 15%, respectively add up to 47% with other small parties taking 5%, and the blank and undecided, 4%.
The latest poll dated between August 29 and September 3, was despite the overall count, positive for the ruling coalition, which had been losing ground for weeks, dropping to 39%, but has since recovered although it is not clear whether it has the sufficient momentum to push clearly ahead of the two main opposition parties, as was the case during almost four years of President Jose Mujica's administration.
The Factum poll also pointed out that the National party kept slowly growing at 32%, the Colorados were up one point to 15%, while the Independent party climbed to 3%, the Popular Unity, 1% and the Environmentalists, 1%.
Taking into account the last three months, the National party and its presidential candidate Luis Lacalle Pou have been climbing a point a month: 30% in July; 31% in August and 32% in September. The Colorado party and its candidate Pedro Bordaberry had 14% in July, 15% in August and repeated in September, which is also positive since it somehow means they have managed to avoid the loss of votes to polarization between Lacalle Pou and the ruling coalition's candidate, ex president Tabare Vazquez.
"There's a gap in favor of the so called opposition parties (National and Colorado) over the ruling coalition, Broad Front, which remains at five points. This means that in today's picture, there will be a runoff and the next Uruguayan president will be elected in November. However the results of October are also crucial regarding the possibility of an ample legislative majority as the Broad Front has enjoyed in the last ten years", said Factum.