Cuba restricts personal importation of foreign goods, "to curb abuses"
Wednesday, September 10th 2014 - 07:22 UTC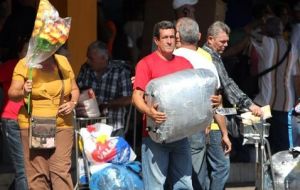 Cuba has implemented new rules that will restrict the personal importation of foreign goods into the country except where locally made items are expensive and scarce.
The government says the restrictions are meant to curb abuses that have turned air travel in particular into a way for professional "mules" to illegally import supplies for both black-market businesses and legal private enterprises that are supposed to buy supplies from the state.
With the new guidelines in place a list detailing the number imported items that can be imported has been published.
According to the list, for example, 22 pounds of detergent will be allowed instead of 44; one set of hand tools instead of two; and 24 bras instead of 48.
The rules also state that tour car tires are still permitted, as are two pieces of baby furniture and two flat-screen televisions.
Cuban customs also bars passengers from bringing in items worth more than 1,000 US dollars.
Instead of examining receipts, customs agents are given a long list assigning pre-set values to certain goods. The new rules similarly increase the duties paid on goods shipped from abroad, another major source of foreign merchandise for the island.