Argentine organized labor leader forecasts a "social explosion" next December
Friday, September 12th 2014 - 06:12 UTC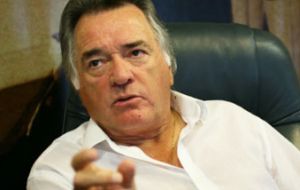 Argentina is heading towards social outbreak due to soaring inflation, head of the anti-government CGT Azul y Blanca labor confederation Luis Barrionuevo said in statements that have already sparked controversy.
"President (Cristina Fernández) said that if inflation reached 25% Argentina would burst, and we will be reaching 40% of inflation (soon)," Barrionuevo told reporters on Thursday as he warned conflict will flare up in December.
"Who predicted what is coming is President (Cristina Fernandez) herself," the union leader insisted adding that "our time is not politicians' time."
"We will take action. Tomorrow we will set the day for the rally," he went on confirming anti-Kirchnerite unions are readying new protests for the upcoming months, following a 24-hour general strike launched back on August 28.
"What the President is looking for is to go forward and entertain (people) because she wants to see how she gets and ends her term in office" Barrionuevo said expressing fear about coming events, because "we have the feel of main street".
Barrionuevo went further and considered that Buenos Aires City Mayor Mauricio Macri, Buenos Aires province governor Daniel Scioli and Renewal Front leader Sergio Massa are not likely to win next year's elections because "things are getting ugly in Argentina" as the 2015 battle nears.
"Conflicts will speed up, money will be less and less. So I think that in that there could be a starting over again and playing a new hand".