Chile's military coup anniversary exposes a divided country
Friday, September 12th 2014 - 06:40 UTC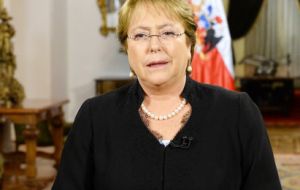 "In Chile there's no room, and there can be no room, for violence or fear," President Michelle Bachelet said Thursday at a ceremony commemorating the 41st anniversary of the 1973 military coup and several days after a bomb blast injured 14 people in this capital. The 17-year military dictatorship remains controversial and a rift in Chilean society.
The ceremony, held in the La Moneda presidential palace, was attended by representatives of various social and political organizations, including Senate leader Isabel Allende, the daughter of then-President Salvador Allende, who took his own life during the putsch led by Gen. Augusto Pinochet.
"In democracy, Chile has not lost its memory and has not forgotten its persecuted, executed and missing arrested children," said Bachelet, whose father, an air force general who opposed the coup, died under torture by the Pinochet regime.
"Neither has (Chile) forgotten the wounds that continue causing pain," said the socialist president.
"Forty-one years have passed and surviving witnesses, victims and victimizers and accomplices are elderly," said Bachelet alluding to the advanced age of the relatives of the victims of the 1973-1990 dictatorship that are still demanding truth and justice.
The Pinochet government killed more than 3,000 people and tortured upwards of 25,000 including Bachelet and her mother.
"Many have died keeping silent. Enough of painful hopes and unjustified silences. It's time to join forces in truth and it's fundamental for those who have relevant information to provide it," she added.
Bachelet said that Chile still has much to do to perfect its democracy, which "is its most precious asset" and she reiterated her rejection of violence in the wake of not only the bomb attack that wounded 14 but also two other bomb blasts at grocery stores in Viña del Mar.
Outside the presidential palace protesters in the streets of Santiago built barricades, set buses on fire and clashed with police forces. A woman was killed by a stray bullet and a police officer was severely wounded.
Masked men began to build barricades and set public buses and private vehicles on fire a few minutes after midnight in some of the Santiago' workers' neighborhoods, Peñalolen, San Bernardo, Quilicura and Cerro Navia, official sources said. A police station was also attacked in San Bernardo.
Seven protesters were arrested in southern Santiago as they were setting a bus on fire, the police said.
"We have identified 97 conflict areas were police presence will be reinforced," regional governor Claudio Orrego told reporters ahead of the riots. Likewise several schools and universities have cancelled classes and electric companies have set contingency plans in motion to prevent supply cuts.
At the other extreme a day before the anniversary, organizations of active and retired Chilean military personnel took out a newspaper advertisement proudly claiming the 1973 coup that launched dictator Pinochet's 17-year rule.
"We salute all Chileans on the foundational date of 21st-century Chile," said the ad in daily newspaper La Tercera, which was signed by 20 organizations of soldiers, police and "martyrs' widows" whose military husbands were killed. The letter condemned the trials of military officers accused of crimes during Pinochet's "dirty war" against leftist opponents.
"While delinquents, subversives, terrorists and soldiers' murderers have been pardoned, amnestied or protected, the people who fought to create the conditions that have given us the security and order enabling the nation's current progress have been convicted without due process," it said.
"We will not cease publicizing this abnormal situation, which damages the concept of justice and Chileans' solidarity."
About 60 former military members are currently serving prison sentences for violating human rights during the dictatorship.
The Sept. 11, 1973, coup remains deeply divisive in Chile, where Pinochet still has fervent supporters 24 years after the return to democracy and eight years after his death at age 91.