Falklands Islands' minefield priority areas are named as bidders visit
Friday, September 12th 2014 - 06:46 UTC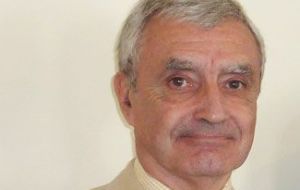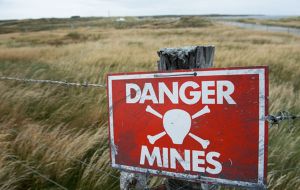 Four minefield clusters have been pinpointed as priority areas for the next clearance phase in the Falkland Islands. Foreign and Commonwealth Office (FCO) Advisor for minefield issues Alistair Craib confirmed this week that Priority 1 is Minefield 59 on either sides of the MPA Road near Wall Mountain and Mount Harriet.
This was chosen for reasons of public safety, that is, concern about the state of the road and the risk that people might go off the road into a minefield.
The minefields are a legacy of the Argentine invasion and 74-day occupation of the Falklands in 1982.
An area near Eliza Cove is priority 2. This includes the Eliza Cove minefield itself and to the north, plus an old booby trapped area and an area that has not yet been released which is not a minefield but requires checking.
Priority 3 is situated along the MPA road close to Stanley, south of Sapper Hill and west along the road. Priority 4 comprises three minefields just south of Stanley.
Mr. Craib said depending upon a number of factors it was hoped the project would start at the end of November. It will go on until the end of March 2016. He cautioned that there was no guarantee all of the planned minefields would be cleared by then.
The UK Government has allocated a total of £2 million in each financial year (the current and next) for the entire project including clearance.
Two contracts are up for grabs, the clearance contract itself, and the much smaller contract the Demining Project Office (DPO) contract. The DPO is the public voice of the project. Readers may remember Mr Guy Marrow as the face of the DPO during previous phases.
Earlier this week some of the bidders were in the Falklands with Mr Craib. Representatives of companies from Dubai, Zimbabwe, UK and Denmark have been examining the minefields in detail. The group includes former demining contractor BACTEC. Having returned to their countries they will put in a proposal, "as to what they believe they can do with the amount of money that is being allocated," and later this month, "we will sit down in London and evaluate the proposals that come in," said Mr. Craib.
Then a determination will be made, "which one we believe will serve our purpose best," and clear the most minefields to the best standard. He said clearance undertaken on the Falkland Islands will be to a higher standard than is required by international mine action standards. (Penguin News).-