FIFA vice-president has called for 'corruption' report to be published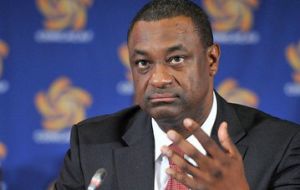 FIFA vice-president Jeffrey Webb has called for Michael Garcia's report into the corruption-tarnished World Cup bidding process to be published. The CONCACAF president made his declaration at the Soccerex Global Convention in Manchester on Tuesday.
FIFA's ethics judge Hans-Joachim Eckert is now in possession of Garcia's report, which FIFA in July said would not be made public. The German judge's verdict is expected to be delivered in November if not sooner.
When asked if the FIFA investigator's report - which recommends sanctions against "certain individuals" - should be made public, Webb was unequivocal: "Yes, no question," he said.
Webb added that "if there is proven bribery or corruption" FIFA should either run a revote or the hosting rights should "go to the runners-up". That was an interesting comment, as CONCACAF member the USA finished runners-up to Qatar in the final round of FIFA ExCo voting in December 2010.
At Soccerex on Monday, FIFA vice-president Prince Ali also called for the Garcia report to be published.
In the future, Webb called for more clarity in the bidding process, calling for all 209 national associations to have an open vote.
"I support going to the member associations for an open vote," he told Soccerex delegates. "We do this in CONCACAF for the sake of transparency. After all, it is not a personal vote but a vote by your national association."
Webb will not be making those sorts of changes as president of FIFA though as he all but confirmed he would not be standing in next year's presidential election, and remained coy about possibly standing in years to come. On Monday at Soccerex, Sepp Blatter confirmed he would run for a fifth term as FIFA president.