Gas prices must increase to sustain strong investment levels, says YPF Galuccio
Monday, September 15th 2014 - 05:11 UTC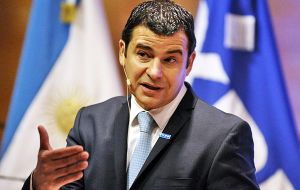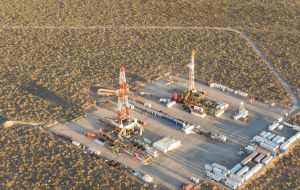 Argentina's YPF oil and gas state corporation CEO Miguel Galuccio pointed out that the increase in gas prices is needed in order to sustain "strong investment levels" for the company and revealed that the cost of drilling a well in the country's massive oil field in Vaca Muerta has fallen below 7 million dollars.
"If gas prices did not increase we would be bankrupt," Galuccio said in an interview with a Buenos Aires newspaper when asked about the company's recent 4% hike, totaling a 60% in 2014. "We need to maintain competitiveness in gas prices to sustain this strong level of investment," he added.
"YPF is committed to the country unlike any other company," Galuccio stated. The company's head praised the Vaca Muerta shale oil and gas field and pointed out that YPF has reached a production level of 31,000 barrels of oil equivalent.
"As operators we are much better than our competitors," he added.
Galuccio also revealed that the cost of drilling at the massive Vaca Muerta oil field in Patagonia has fallen, with vertical wells now costing below 7 million dollars each, which was lower than a cost he had given earlier this year of 7.5 million.
Horizontal well perforation was costing between 14 million and 15 million dollars per well, he said.
Galuccio also pointed out that a new government bill that aims to attract investors to help it develop its oil reserves by extending license periods and freezing royalties was "important", adding that an investment-friendly framework was necessary.
"I know the importance that legal and fiscal stability has for them (investors), clear rules and transparency. But confidence is generated not only by rules, but by complying with them," he told the paper.
Argentina is seeking international investors to help it develop Vaca Muerta in Patagonia, potentially one of the planet's largest reserves of shale oil and natural gas.
Last month YPF agreed a 550 million dollars deal with Malaysia's Petronas, and it has also secured a 1.24 billion deal with U.S. oil major Chevron.