Argentina warns US acting ambassador on 'default' statements and 'deplores lack of support'
Wednesday, September 17th 2014 - 01:11 UTC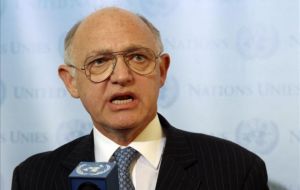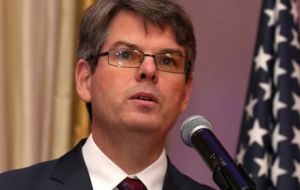 United States interim ambassador to Argentina Kevin Sullivan was summoned to foreign minister Hector Timerman's office and was informed of "the profound and firm rejection of the Argentine government to the US diplomat's inappropriate statements", according to the statement from the ministry made public on Tuesday.
In an interview published on Monday in Clarin newspaper, Sullivan said it was important for Argentina "to exit default as soon as possible, for it to return to the path of sustainable economic growth and attract the investment it needs" adding that the US did not support the debt restructuring debate at the United Nations "because we do not think it is the right place to find an efficient solution."
According to the Foreign Ministry, Mr. Timerman conveyed to Mr. Sullivan on Tuesday that "Argentina has honored all its commitments in due time and form under the conditions agreed in 2005 and 2010 and will continue to do so."
Tuesday's statement adds that the Barack Obama administration "is aware of the perverse consequences" that Judge Thomas Griesa's ruling entails, "just like it expressed it in April 2012 during its presentation as amicus curiae of the Republic of Argentina."
Argentina is under no suspension of payments neither with the United States nor with any other country, Mr. Timerman was quoted in the communiqué as telling Mr. Sullivan. It also mentions the fact that Argentina reached an agreement with the Paris Club of creditors involving a first 642 million dollar payment, the country managed to service on July this year.
"Comments about an alleged default by the diplomat have no factual basis but it coincides with the position of 'vulture funds', opposing the interests of 92.4% of creditors that have accepted the debt restructuring," the document also highlights adding that Sullivan "must be ignoring" the Sovereign Payment Act recently passed by Argentina's Congress covering "100 percent" of creditors.
"Argentina deplores that the United States has not accepted to settle the responsibilities of its State for the damage caused by its Judicial Branch in the International Court of Justice of the United Nations, where independent judges would have settled the matter applying legal, equitable and fair criteria. Furthermore, (Mr. Timerman) recalled (Mr. Sullivan) that the United States did not accept the jurisdiction of the Inter-American Court and the International Penal Court either in matters related with the violation of human rights."
In another paragraph of the statement, it is informed interim ambassador Sullivan was told Argentina "regrets that the United States did not join the wide consensus reached in the United Nations about the need to set a new Legal Framework for Sovereign Debt Restructurings."
"(Argentina) deplores as well that the US did not have a cooperative stance during negotiations."
"Finally, Foreign Minister Hector Timerman assured that in case of further interruptions in the internal affairs of the Republic of Argentina, the most severe measures will be adopted, (as) stipulated by the Vienna Convention over the conduct of diplomatic representatives."