Argentine participation in London's prestigious "100%design" fair
Friday, September 19th 2014 - 06:31 UTC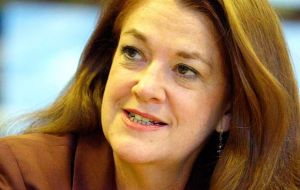 The creativity and uniqueness of Argentine design are on show at the 100%design fair thanks to the support of the Argentine Embassy, which has its own stand at what is considered one of the most prestigious contemporary design events worldwide.
"Argentina is an avant-garde country in the field of design and this is demonstrated every year in London through the originality and quality of the products exhibited", Ambassador Alicia Castro stated during her visit to Earl's Court exhibition centre, where 100%design is taking place between 17 and 20 September.
The Argentine stand, curated by Argentina's National Directorate of Creative Industries, is displaying wool-based fabrics and materials, accessories, Patagonian furniture, ceramics, lamps, chairs, armchairs as well as various other everyday objects, all representing the cultural diversity, identities and different techniques on which Argentine design is based.
"Our goal is to support and promote the burgeoning design industry in Argentina, in particular small and medium-sized enterprises", Alicia Castro stated.
"The aim is to encourage high-quality producers with added value who use special techniques, challenging traditional market rationale by producing pieces based on innovative designs", added the Ambassador.
A total of ten Argentine companies are participating at this year's 100%design: Ayma, El Catango, Curadoras, Obregón, Red Sur, Crivos, Mags Design, DSA Ideas, Heidi Jalkh and Lavacatada.