Bad omen for Argentina and Citibank in their appeal over bond payments
Friday, September 19th 2014 - 06:11 UTC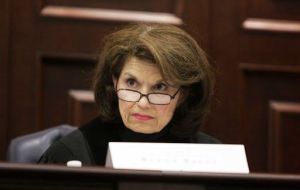 U.S. appeals court signaled its displeasure with Argentina on Thursday as Citigroup warned it faces "serious and imminent hazard" if it follows a judge's order not to process an upcoming interest payment due to bondholders. The hearing ended with not resolution but a pledge to decide on the matter 48 hours before the end of the month.
The bank urged the 2nd U.S. Circuit Court of Appeals in New York to reverse a judge's ruling blocking payments on 8.4 billion in bonds issued under Argentine law following its 2002 default.
Citigroup faces regulatory and criminal sanctions by Argentina, which was declared in selective default in July, if it cannot process the 5 million payment by Sept. 30, said Karen Wagner, Citigroup's lawyer.
"If we obey, we have a gun to our head, and the gun will probably go off," Wagner said. "I ask this court, what good will that do? It won't change what Argentina does."
But some panel members questioned why they should consider Argentina's position when the country was taking steps, including passing legislation, to avoid complying with orders that it pay 1.33 billion plus interest to creditors suing for full payment on defaulted bonds.
"I'm not sure why we're even listening to this," said Circuit Judge Reena Raggi. "Your client is the person or entity holding the gun to Ms. Wagner's client's head."
Argentina defaulted in July after refusing to honor a court order to pay bondholders led by Elliott Management's NML Capital Ltd and Aurelius Capital Management.
The country's most recent default came after the U.S. Supreme Court declined to hear Argentina's appeal of a lower court ruling that it must pay the holdouts at the same time it paid holders of the exchange bonds.
U.S. District Judge Thomas Griesa, who has for years overseen the Argentine bond litigation, subsequently blocked Bank of New York Mellon Corp from processing a 539 million dollar interest payment on what the country says is over 28 billion in restructured debt.
The order sent Argentina on a course to default after it failed to reach an agreement with the holdouts.
Amid the litigation, Citigroup sought Griesa's assurances it could process any payments it received from the country on bonds issued under Argentine law.
Griesa initially ruled for Citigroup, which has a branch in Argentina, but on July 28 reversed course, blocking future payments by the country on U.S. dollar-denominated bonds issued under Argentine law.
Wagner said Thursday that Citigroup will "undoubtedly" get another transfer of money from Argentina by Sept. 30. She stressed the risks the bank faced, though she said the bank would follow any order upholding the injunction.
Citigroup has argued payments on the bonds, which are regulated and paid in Argentina, cannot be blocked by a U.S. court. Failure to pay could result in the loss of its Argentine banking license, its takeover by the country or the imprisonment of bank officials, Citigroup has said.
"Citibank Argentina faces a serious and imminent hazard," Wagner said.
Roy Englert, a lawyer for the hedge funds, countered that Argentina's "evasion plan would be aided and abetted by this court" if the judges reversed Griesa.
One judge, Barrington Parker, voiced skepticism over Citigroup's argument, saying, "I don't know how you can seriously argue the Argentine law bonds aren't covered by the injunction".