Seatrade Med held its annual party in Barcelona and honors Jacques Truau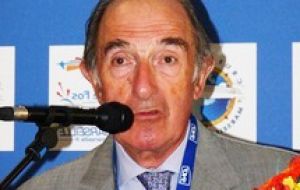 Singapore Tourism Board (Destination of the Year), Copenhagen Malmo Port (Port of the Year), Bolidt Synthetic Products & Systems (Supplier of the Year), Royal Caribbean Cruises Ltd (Environmental Initiative), and Excursions Ltd (Innovative Shorex) were all honored last week as winners in the eighth Seatrade Insider Cruise Awards, principal sponsor Fidelio Cruise, presented at the Seatrade Med 2014 Party held at Barcelona's Gran Teatre Del Liceu.
In addition, Jacques Truau, president of Marseille-Provence Cruise Club, received the Seatrade Lifetime Achievement Award for Services to Cruising in the Mediterranean. Seatrade Insider editor Mary Bond said 'Jacques Truau has devoted over 20 years of steadfast personal commitment to growing cruising in the Mediterranean.
As a pioneer he started the long and methodical process of persuading local stakeholders to come together to create a Cruise Club. Around this time last year, the milestone annual figure of one million cruise passengers was achieved.
Always ready to react, Truau has been involved in all major cruise infrastructure projects at the port, from the widening of the harbor entrance to the resumption of major ship repairing in the very near future.'
Jacques Truau said 'I am very surprised and honored to receive this award, and in my opinion it should be dedicated to the Marseille Provence Cruise Club team for their daily efforts in promoting cruising to our region.'
At the Opening Conference session of Seatrade Med, Adam Goldstein was announced as the Seatrade Mediterranean Personality of the Year 2014, an award sponsored by V. Ships Leisure and selected by Seatrade and V. Ships Leisure from nominations received.